Originally a painter and photographer, British artist Hannah Bullen-Ryner has, since 2019, been creating Land Art, using materials found in nature to form intricate works of art that nestle upon the ground as if they live there. These artistic designs do not physically last beyond the day of their creation except through the photographs of Bullen-Ryner.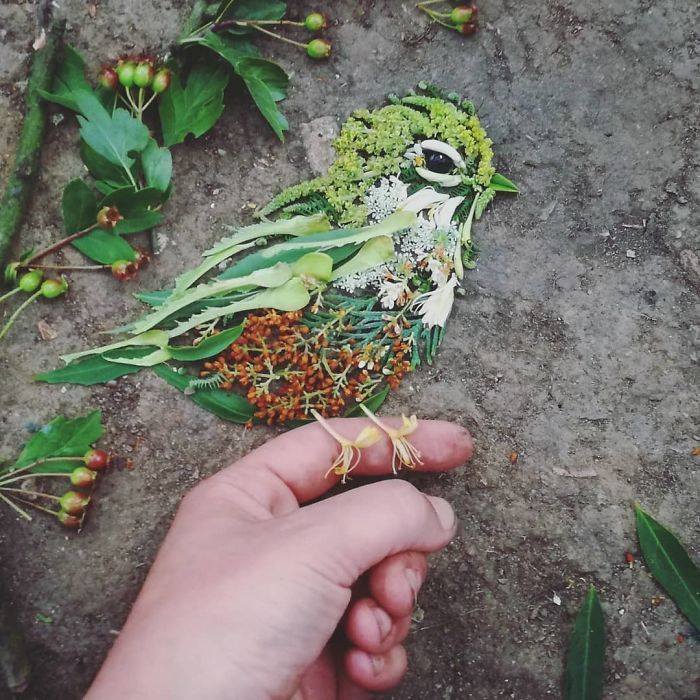 Bullen-Ryner's canvas is whatever spot of ground she chooses to work on; there are two places in particular that are a 10-minute walk from her home near Hertfordshire which she gravitates back to. Because she uses these particular spots so frequently, it is possible to see where berries from earlier creations have seeped into the ground and dyed the background behind some of her newer creations. With pockets full of the pieces of nature she has brought with her that particular day, and with her eyes scanning to see what new materials she can find to incorporate into her work, she settles down each day to create something new.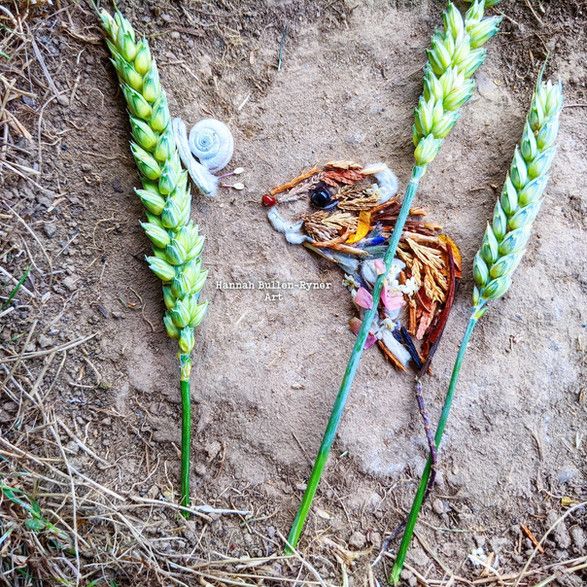 What she calls "the flow" (the artistic inspiration and outflow of her work) can last anywhere from 45 minutes to several hours, depending upon her emotions, her available time, and her inspiration on that particular day. In contrast to the work of many other Land Artists, which is often done on a very large scale,  most of her work is no bigger than a person's hand and is often small enough to fit into one's palm. She creates each delicate piece of art in a single sitting; she doesn't do them in parts or leave them to come back at another time.  Her "flow" is funneled into the creation of each artwork in that one particular time and place.
"I work outside in all weathers, sometimes trying to hold up an umbrella, protect myself and my creation from wind and rain, and hope that the piece lasts long enough for me to take a photograph before I walk away from it." 1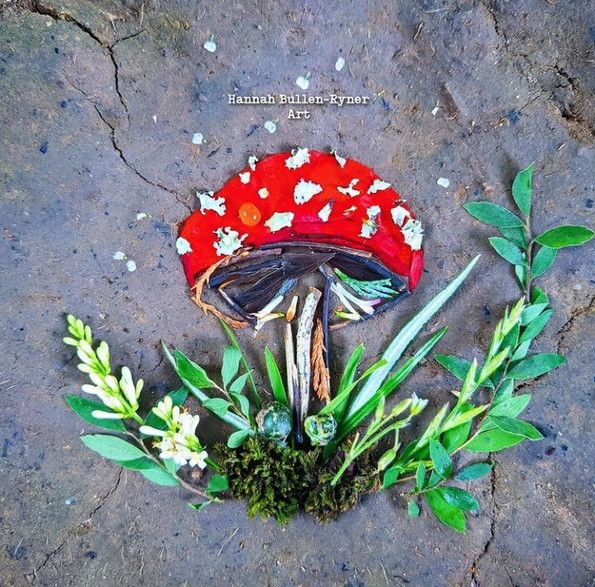 Because her work is so small, it isn't as difficult as you might think to find the assortment of materials that she incorporates into her work. She commonly uses small bits of things, reuses many pieces, and, by her own description, is something of a magpie, always on the lookout for materials wherever she is. Her pockets are continually full of rocks and other materials. Near where she often creates her work, she stores objects she plans to reuse inside half coconut shells, left on the top of fence posts, covered by a plank to protect them, where they are close by for when she wants them for her  next project.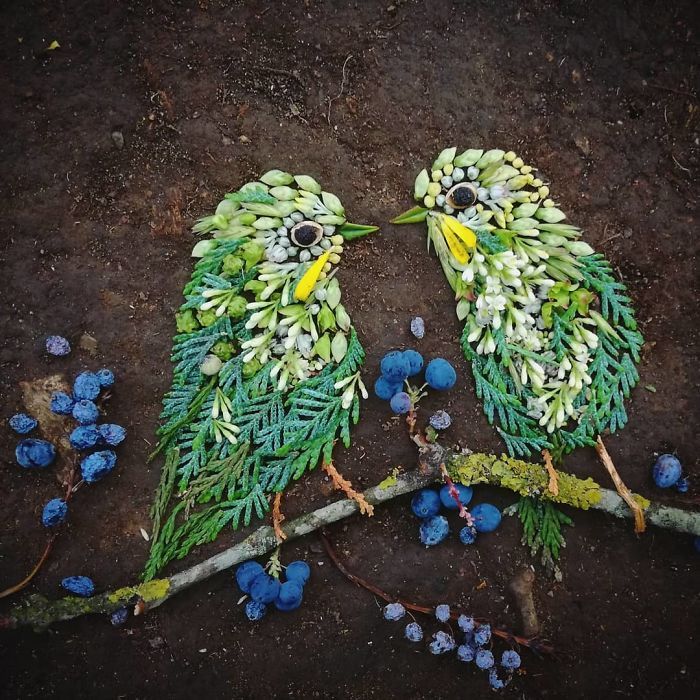 Her work has sharpened her perception of the world. She has learned to look at things more closely, seeing the parts and the details of what is around her, or in her words: "all the little details and uniqueness of each and every plant, tree or bush. The tiny wildflowers, the wonderful array of berries, the constantly changing rainbow of color and texture."
This close observation as well as her overall knowledge of the natural world shows up in both the portraits themselves and in her descriptions of what goes into each piece.  On social media, along with the specific name of the creature she has created that day (kingfisher, wren, tufted titmouse, roe deer), she also often lists all the materials that went into its creation.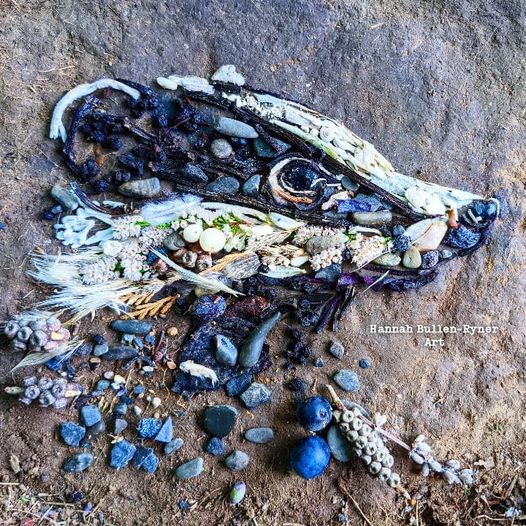 In the case of this badger, she states: "She is born from Snow berries, Silver Ragwort, English Lavender leaves, Pampas grass, White heather, Lamb's-ear, blackened Japanese laurel stems, wilted Night Sky Petunia petals, natural chalk, Welsh river slate pebbles, Sloe berries, browned Cypress, Russian vine, a seashell, a tiny snail shell, tiny broken blue slate fragments, shriveled Oregon Grape berries, and some seriously cool looking seed heads I collected that look like they are octopus tentacles that I am yet to identify!"
As to why Bullen-Ryner does what she does, she names a couple of reasons. The first is personal. She took up her land art after she gave birth to twin girls and was in the midst of postpartum depression. As a stay-at-home mom, she desperately needed alone time to de-stress and calm herself—she labels herself a constant worrier. She discovered that sitting on the woodland floor and creating designs using what was around her was deeply calming and restorative to her mental health.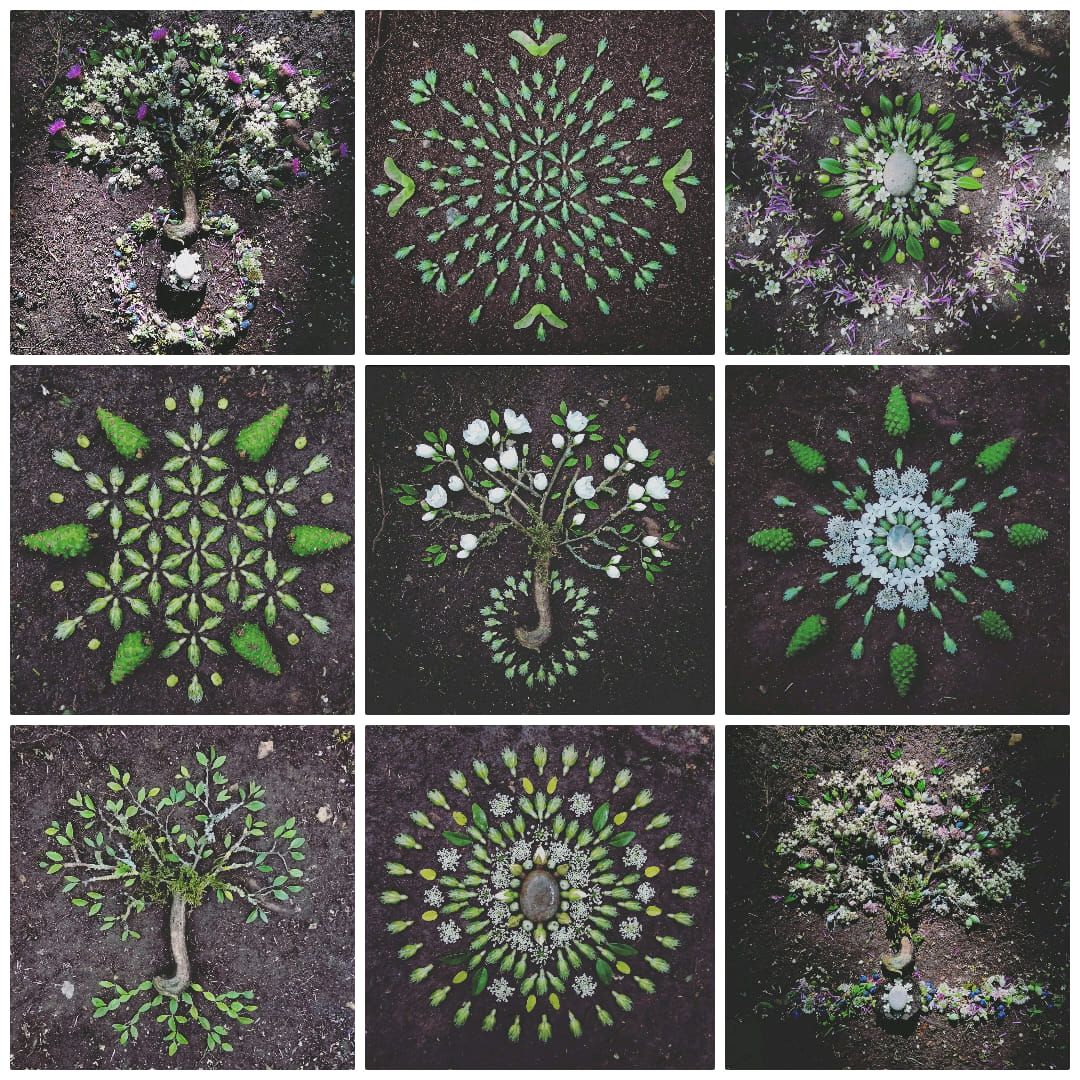 "I get to download all the chaos from my brain, turn it into something beautiful, and walk away feeling so much lighter in my soul." 1
Bullen-Ryner has always been connected to nature and considers her artwork as gifts back to Mother Nature, "I make my work as offerings to honour Mother Earth in all her beauty and power," who, as she says, "deserves our utmost love, respect, appreciation, and protection."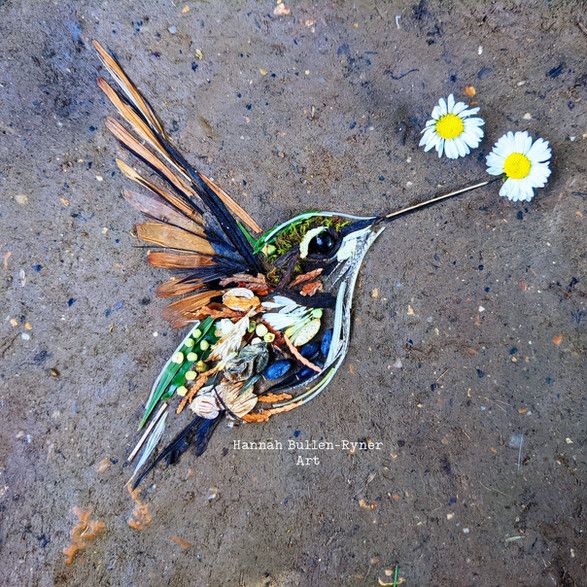 When reading her descriptions of each creation, it felt as if she was creating a new friend every day, both a friend for herself and a friend she was introducing to others who might want to know the creature. Imagination and affection are both amply present in her work itself and in her sharing of the work with the wider world.
Her daily creations are just that—that day's creations. She creates something new each day and it seems to be the process itself that mostly draws her to the work. Interactions between artist and materials, the constant creation of new projects, more than the economic aspect seems to be her driving force—though she does sell prints of her photographs on Etsy.
Reflection Questions: What way of being in the natural world particularly helps you remember your healthy place in that world? Do you cultivate habits that help you remember and strengthen your connection to the natural world?
To leave a comment, click in the comment box below, or email me at info@circlewood.online.
Louise