Given the theme of "new creation emerging from broken places," 27 artists from around the United States started with identical wooden boxes, each creating their own unique artwork as a donation for A Rocha USA. The online auction of these creative and beautiful pieces runs from October 1st to October 29th and will raise funds for the work for A Rocha USA, including a project in Central Texas restoring habitat for native bird species.
Even if you don't have the funds to place a bid (the opening bids for the boxes range from $250 to $3500), I hope you enjoy some wonderful window-shopping through this post and through the fundraising website where you can see all 27 bird boxes. The auction idea came from artist and friend of A Rocha, Mako Fujimura—a great example of creative thinking on behalf of things we care about. Fujimura expresses this hope for the bird boxes: "May each bird box be an effectual offering, and may it birth generosity that God will multiply."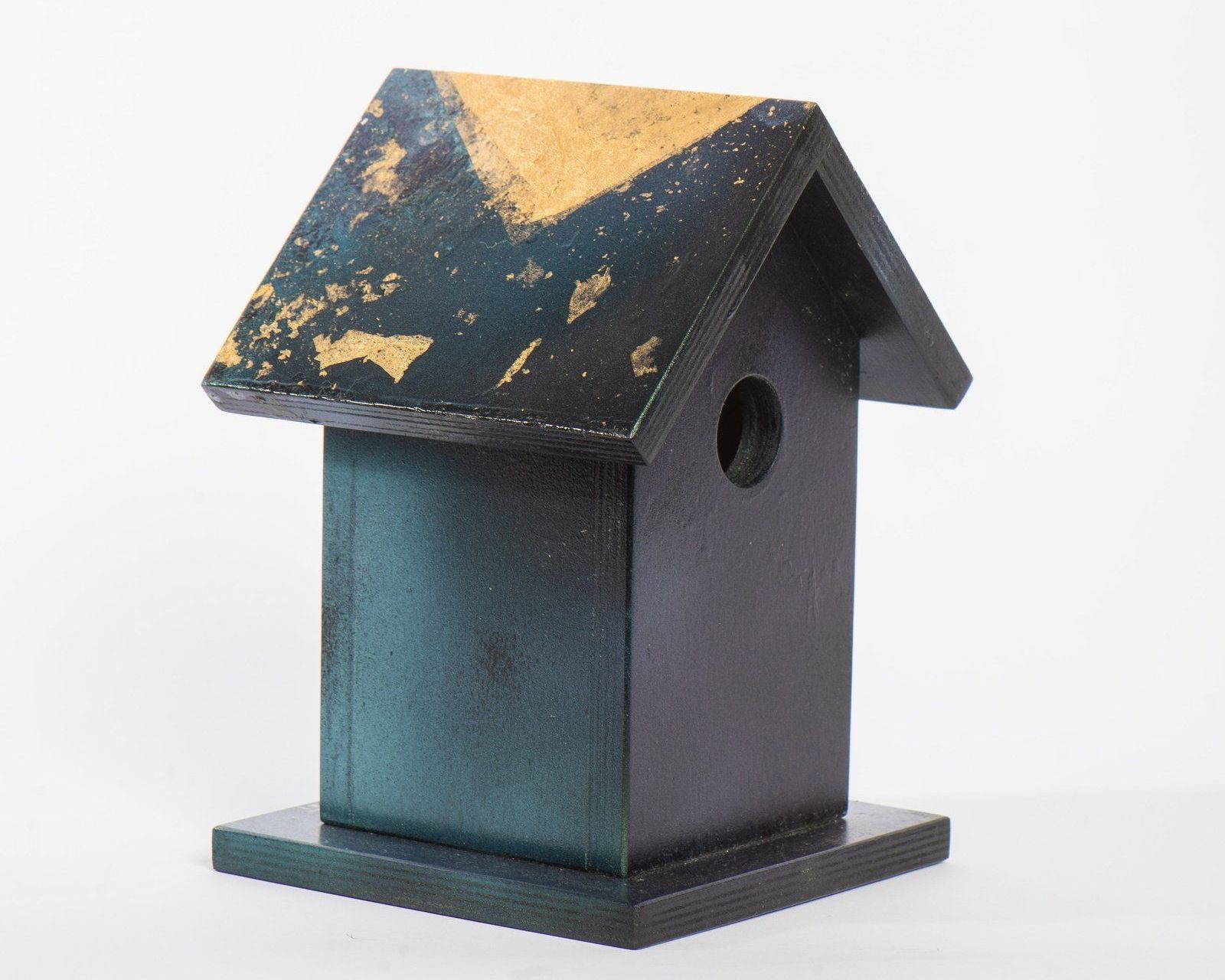 The art in the auction showcases 27 artists who align with A Rocha's mission as a community of Christians working in biodiversity conservation to protect and restore vulnerable habitats, species, and communities. Browsing the contributions of the artists and their artistic statements is rich in variety as each artist demonstrates their own particular creativity. The birdhouse theme was chosen because of A Rocha's origin in 1983 at a field study center in Portugal, where habitat research and extensive bird banding helped protect the area from inappropriate destruction.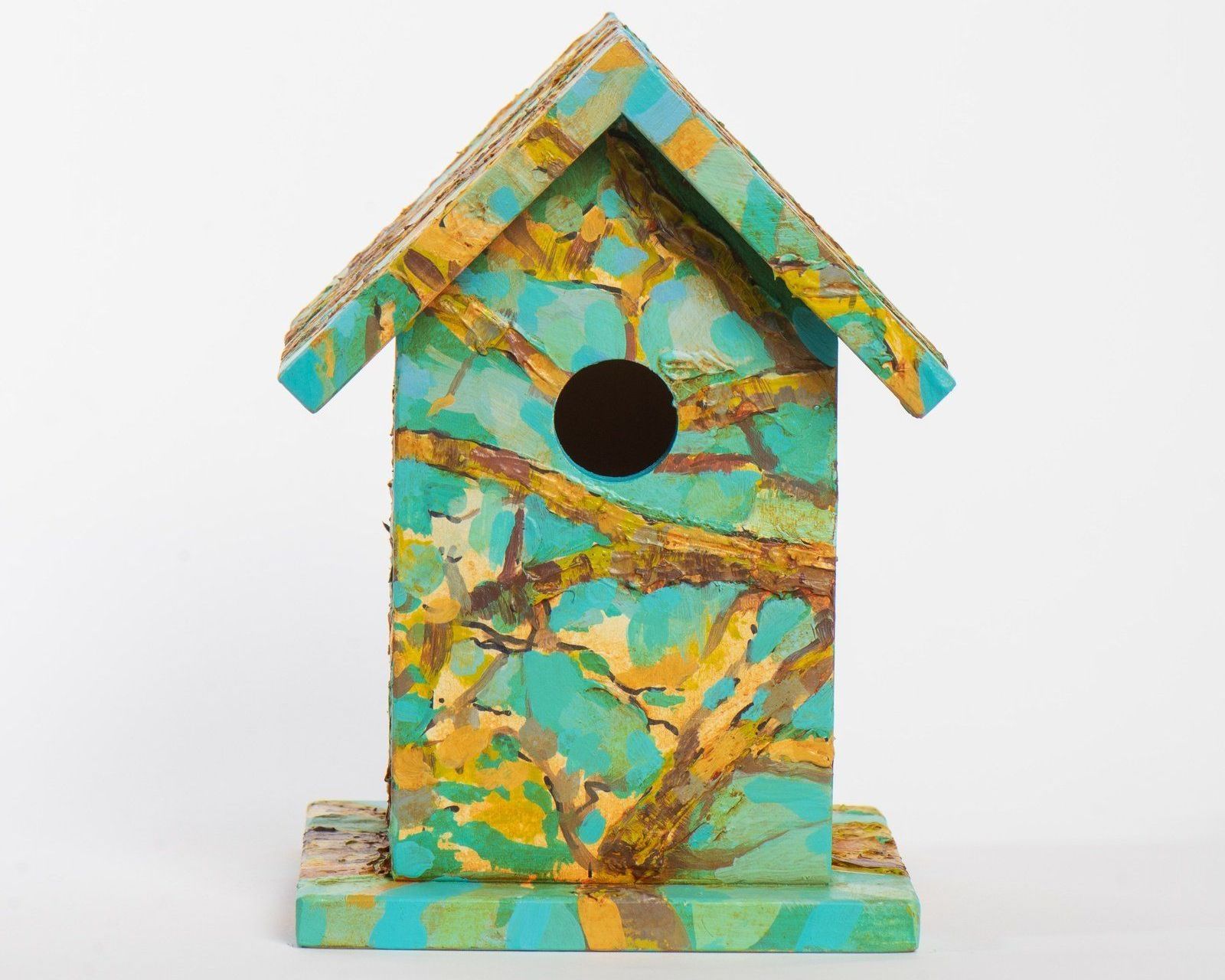 One of my personal favorite bird boxes, created by Bruce Herman, is a bright-colored box titled This Treehouse is for the Birds! The brownish-gold tree crawling against the bluish-green sky background is a lovely contrast of colors and has a definite nest-like feel to it. The entrance hole seems to fit perfectly into its setting amidst the entwining branches and sky. The title is apt—it feels like the welcome mat of this home has been put out with birds in mind.
The box by Roger Feldman is also lovely, with each panel displaying a different kind of bird feather (such as blue jay feathers) all floating atop a base of puffy clouds and blue sky. The side roof trim with its repetition of the sky pattern reinforces a feeling of all these birds sharing the same sky. In his artist statement, Feldman says:
One thing all birds have in common are feathers. With so many species, there are a full range of possibilities for being different... Birds model differences that are beautiful reminders of what we have in common as humans.
In the same way that birds share the same sky, we humans share this earth with each other and all other creatures within it, different but with much in common. Transcendent Home reinforces this truth.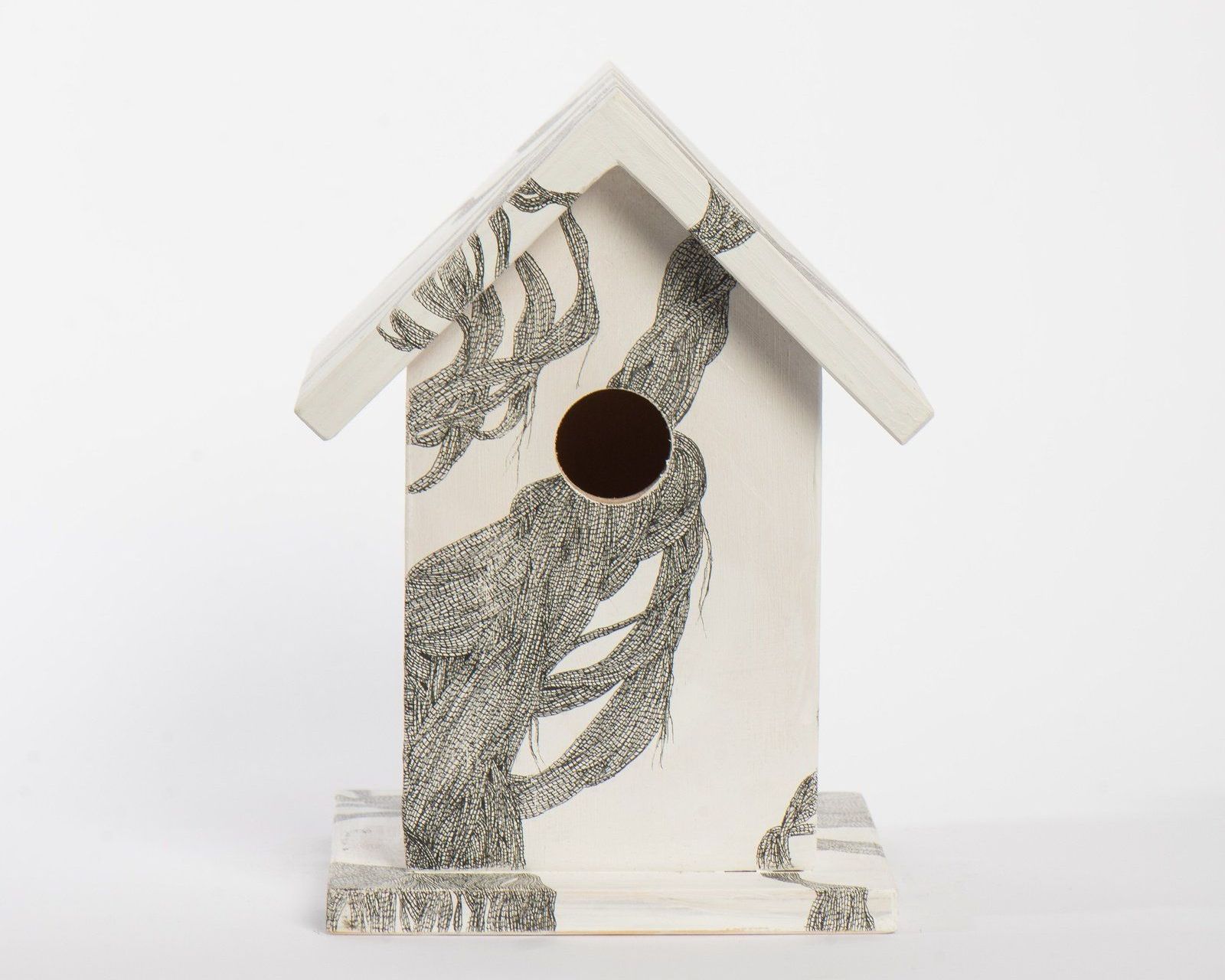 The interconnectivity of nature is what comes through in Sarah's Nelson's bird box. Woven strands of thread remind us of the ways this world itself is woven together and the title of the piece references these words from writer Wendell Berry: We must change our lives so that it will be possible to live by the contrary assumption, that what is good for the world will be good for us. And that requires that we make the effort to know the world and learn what is good for it."
The weavings of the string as it both twines together and falls away into separate strands is a reminder of how the parts of the world around us are separate, and also how those all come together, creating an interconnected world. The weave pattern is also a visual reminder of the many types of birds who become weavers of one type of material or another when forming the nests for their young.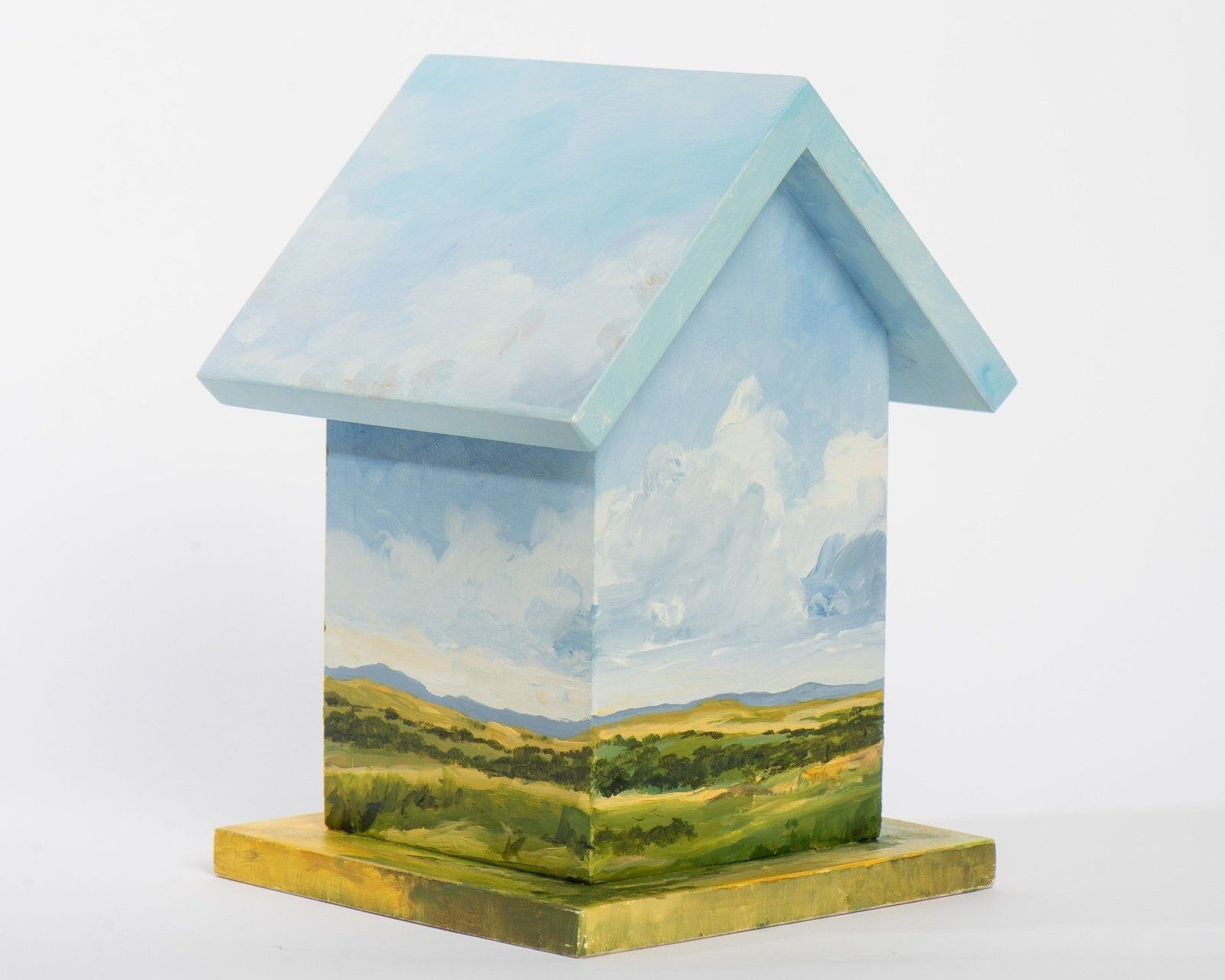 The back side of the bird box featured at the top of this post from Steve Purcell is an homage to the very specific habitat along the Frio River near the Texas campus of A Rocha. Purcell, who is the Executive Director of the Laity Lodge there, shares his knowledge and affection for this particular place in the box he has created. As he names the species found there: black vultures, green and great blue herons, three species of kingfisher, blue grossbeaks, the endangered golden-cheek warbler, canyon wrens, cliff swallows, I can imagine them rising from the cliffs of this painting. The title, Slack and Attentive, is a reference to words from Rowan Williams who likens birdwatching to prayer when he says, ...the odd occasions when you do see what T. S. Eliot called 'the kingfisher's wing flashing light to light' make it all worthwhile. And I think that living in expectancy – living in awareness, your eyes sufficiently open and your mind sufficiently both slack and attentive to see that when it happens – has a great deal to do with discipleship.
I believe it would be well worth your time to visit the fundraising website for the auction to see the gallery of all 27 boxes, and read each of the artists' statements in their entirety. You can also register, which is necessary in order to place bid during the October auction. Because it is an online auction, you can bid from wherever you are, even if you can't make it to Austin, Texas on October 29th for the in-person gallery display of boxes.
I would love it if you left a comment below sharing which box is your favorite—and why. And certainly, if you happen to win a box at the auction, please let us know! (To link directly to the bidding page for any of the boxes featured in this post, just click on the caption beneath the picture).
To leave a comment, click in the comment box below, or email me at info@circlewood.online
Louise