In my last column, I wrote about how a fistful of nettles helped me begin to learn how to care for Circlewood's 40-acre forest on Camano Island. It clearly struck a chord with many of you, and I appreciate your responses. It was especially interesting to hear from Rev. Elaine Breckenridge, who lives on Camano Island and had just received a jar of nettle salt from Ananda Farm.
This week, I write about how I have learned to care for the 1/4-acre of land I currently call home by slowly replacing the lawn. Enjoy - and keep the conversation coming!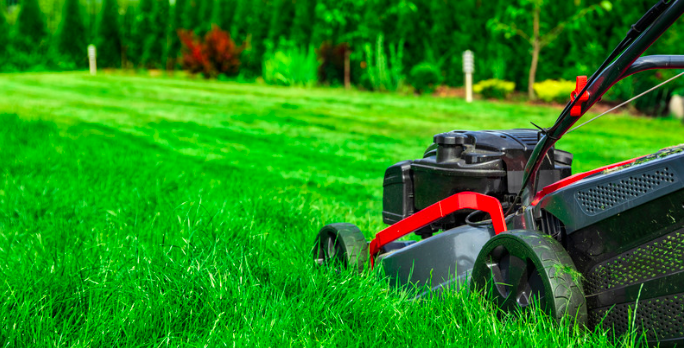 The Problem of the Perfect Lawn
In American culture, the image of a perfectly pristine lawn continues to capture the imagination. Images of exquisitely manicured grass are equated with material success and suburban bliss. For many, the rattle of lawn mowers and the smell of cut grass are cherished signs of spring. A perfect lawn invites us to sit, lay, or play in its soft, green blanket. It presents us with an image of ecological health and connection. But this carefully constructed image masks multiple problems.
The "perfect lawn" is unnatural and destructive. The turf grass typical in most lawns - such as Kentucky bluegrass - is actually native to Europe and parts of Asia. Maintaining such a monoculture of non-native grass requires tremendous inputs: extra irrigation to keep it green in summer, chemical fertilizers to supplement nitrogen needs, pesticides and herbicides to keep other plants and insects from disrupting the desired uniformity, frequent mowing and trimming, seasonal aerating, reseeding, or resodding, and, of course, all the time and money that these inputs require.
All this work may produce the perfect lawn of one's dreams, but it also results in sterile soil, chemical run off, exposure to carcinogens, excessive water use, and destruction of habitat for ecologically important insects and small mammals. If you want to go deeper into the history and harm of this pursuit of perfection, check out American Green: The Obsessive Quest for the Perfect Lawn. A growing number of people are opting out of this vision, choosing instead to re-wild their yards in ways that are less destructive, more hospitable, and, in my opinion, way more interesting. Here is what I have done.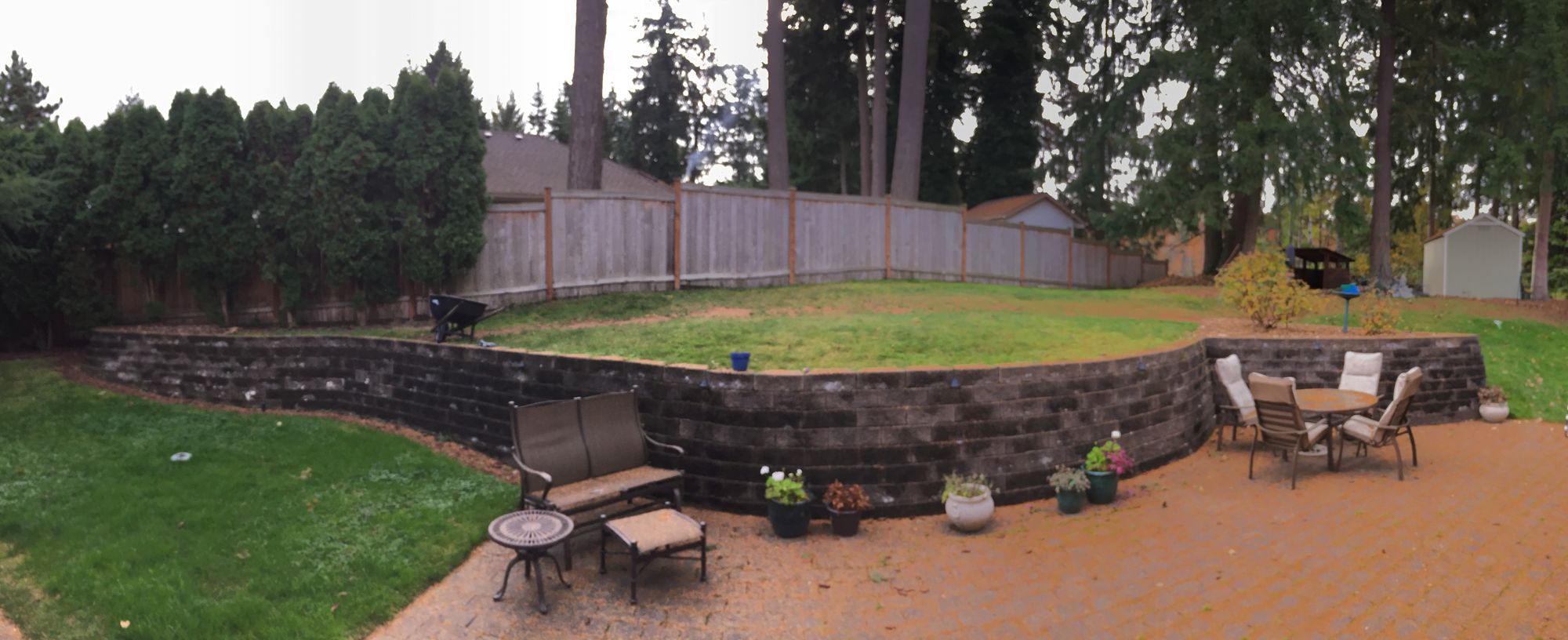 Extending the Woods
The upper portion of my backyard (seen above) was planted with grass that never grew well. It is bordered to the west by a delightful stand of Douglas fir trees that create a wooded area enjoyed daily by kids, birds, and squirrels. After living here for a few years, we felt that this upper section was better suited as an extension of the woods.
After some time researching, we began the transition. First, we covered the entire grass section with cardboard. This suppresses and kills the grass without harming the soil. Next, we received free wood chips from ChipDrop and spread a 3-4 inch layer of chips over the cardboard (a good workout we spread over several days).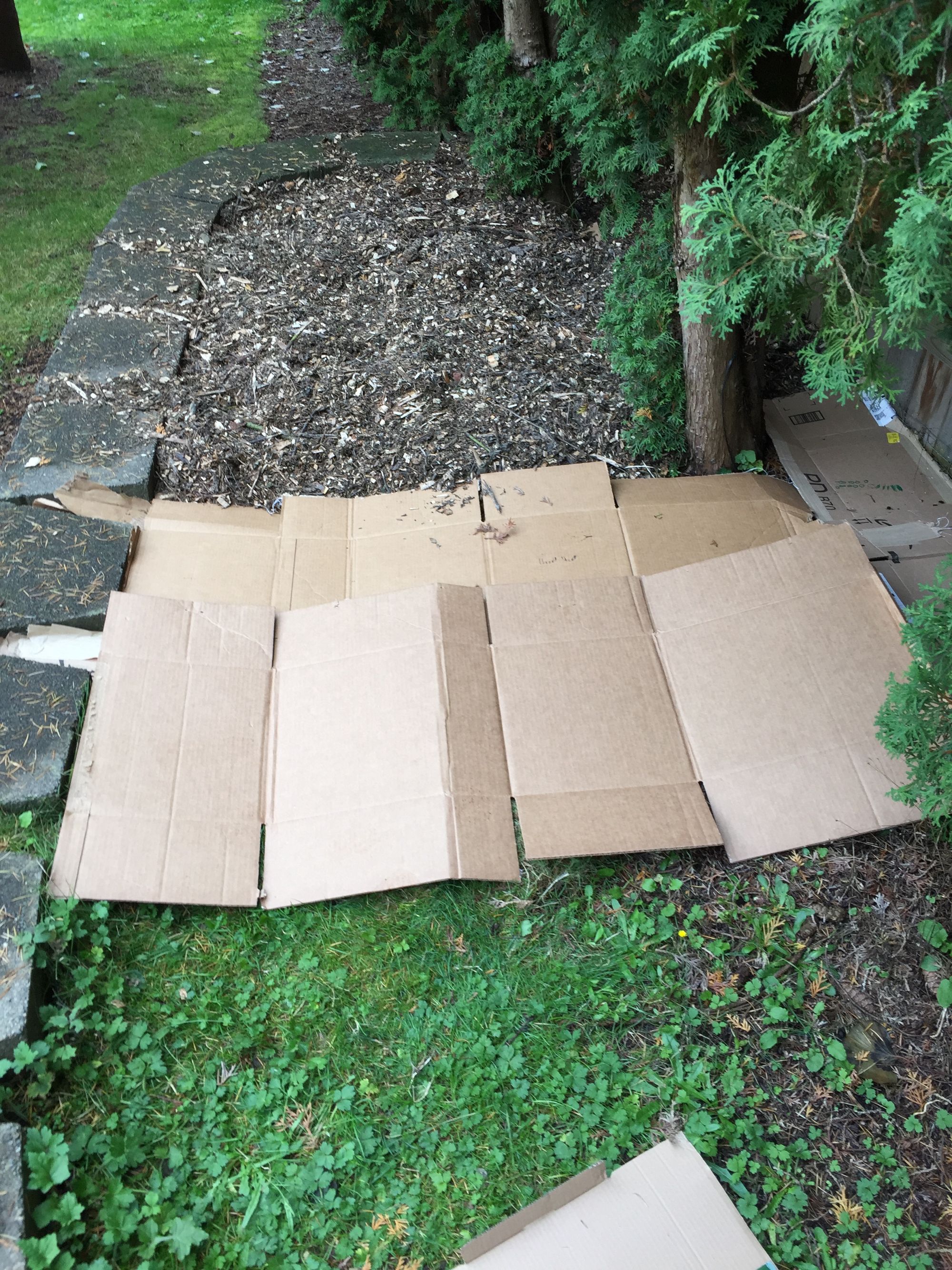 We let the chips rest over the winter - giving time for the grass to die back and the cardboard to disintegrate (the rainy Pacific Northwest winter sped this process up). When spring came, we began to replant with mostly native plants, placing ferns and a young Douglas fir at the edge of the tree line to extend the woods, with additional native plants and some non-native perennials filling out the rest.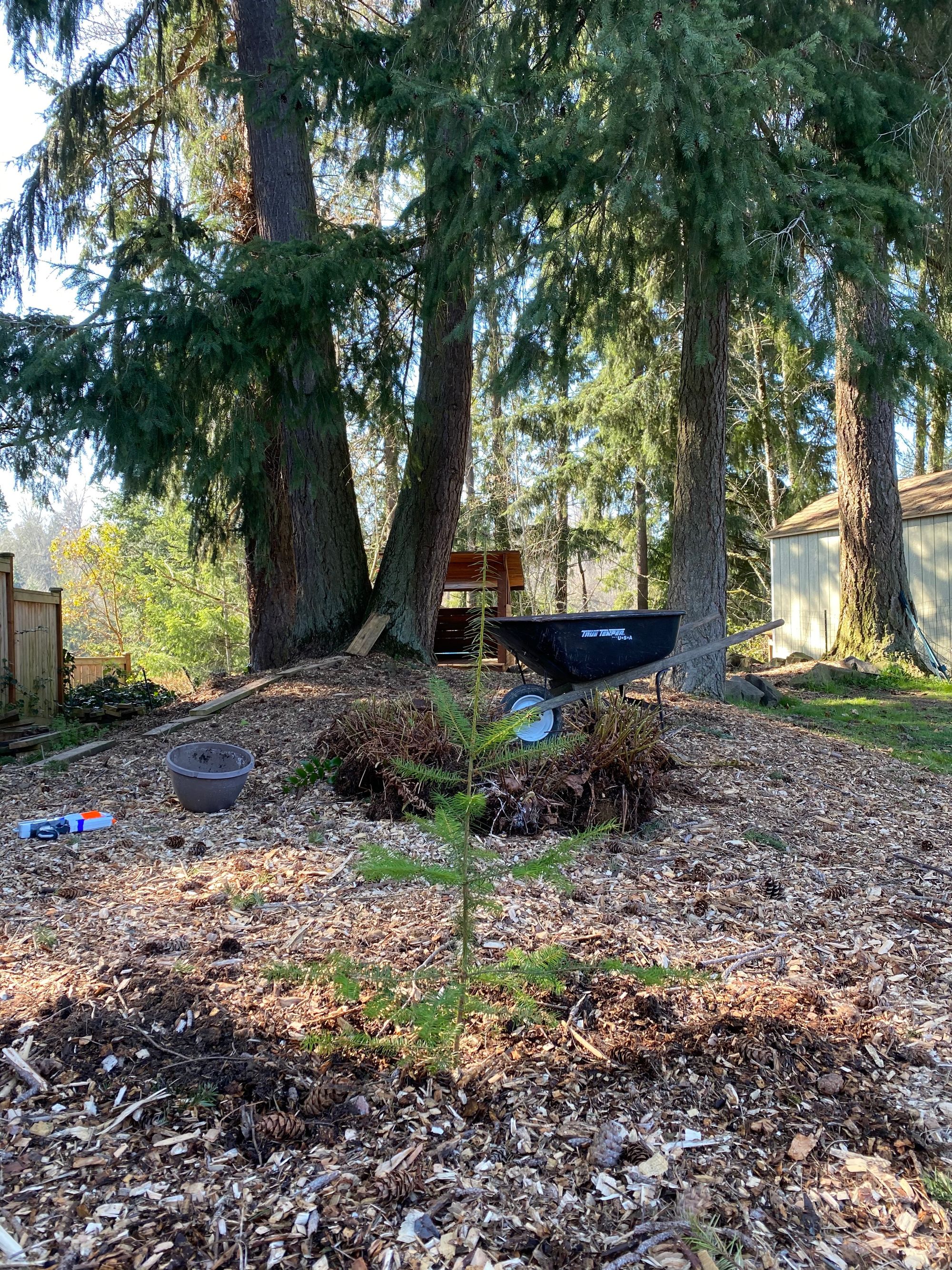 We used decking material that had been left by the previous owners to build a children's playhouse in the wooded area.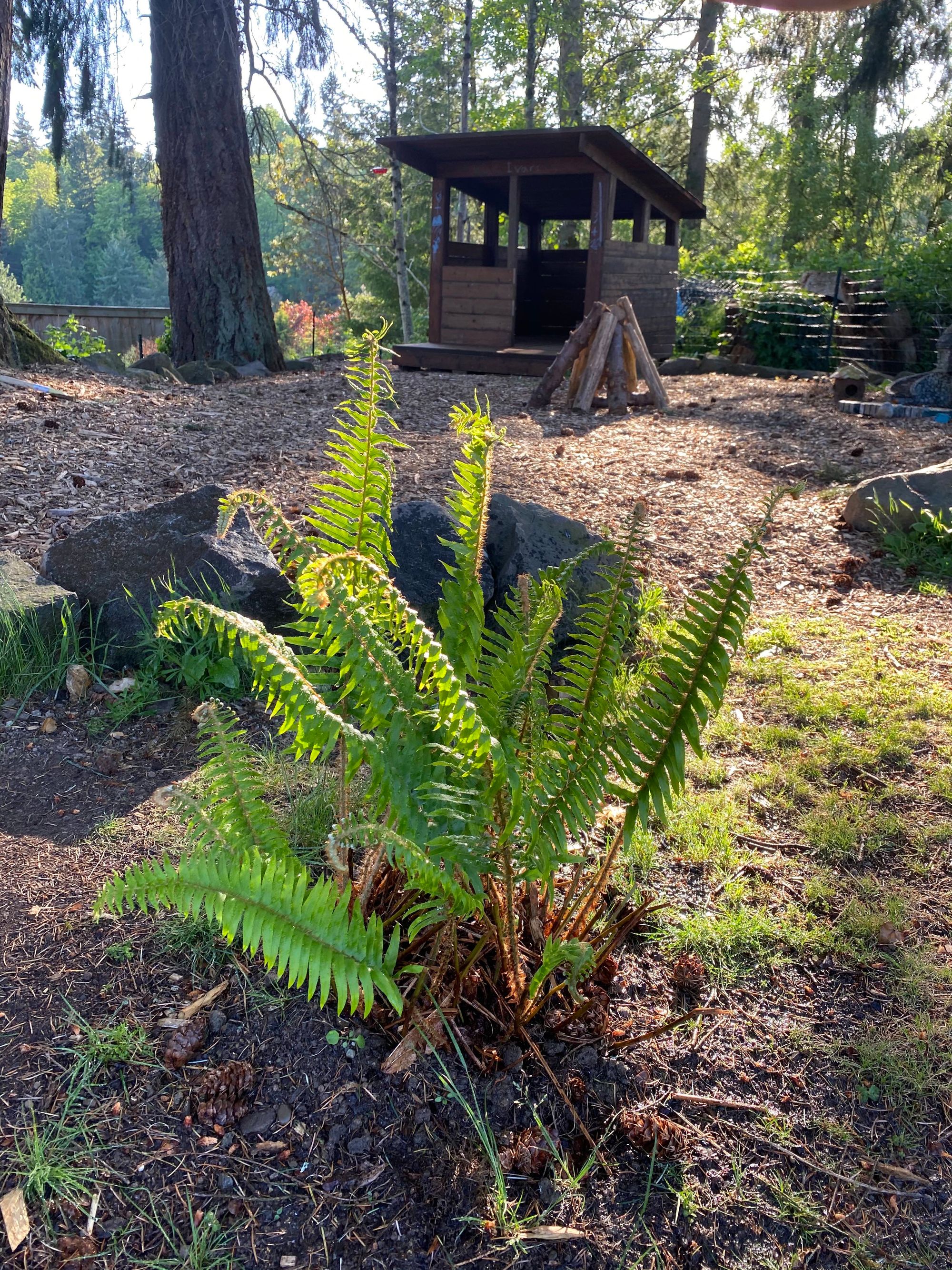 Once enough plants were established, it started to fill in and take shape.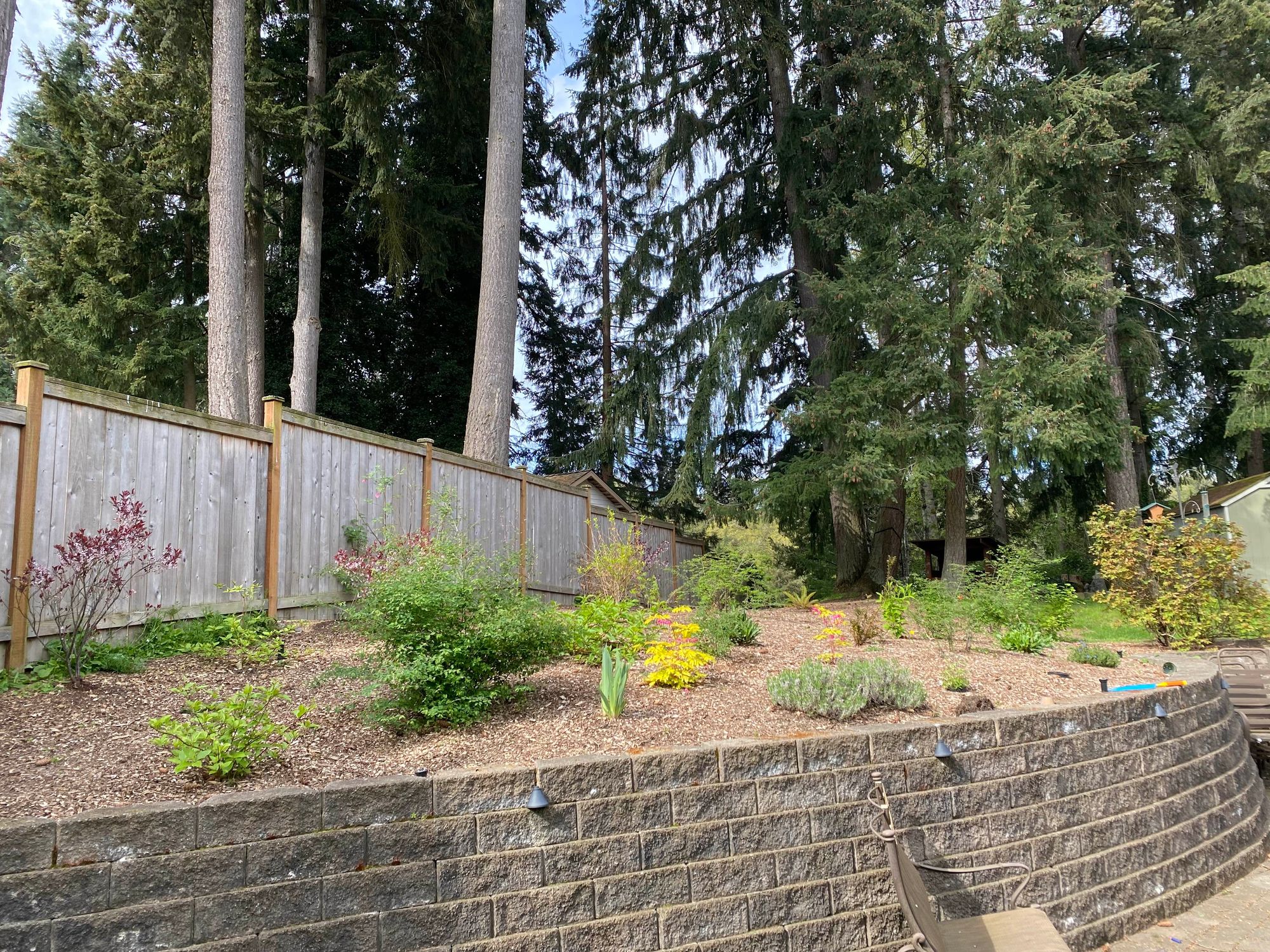 We have enjoyed watching the various plants take root and find their places.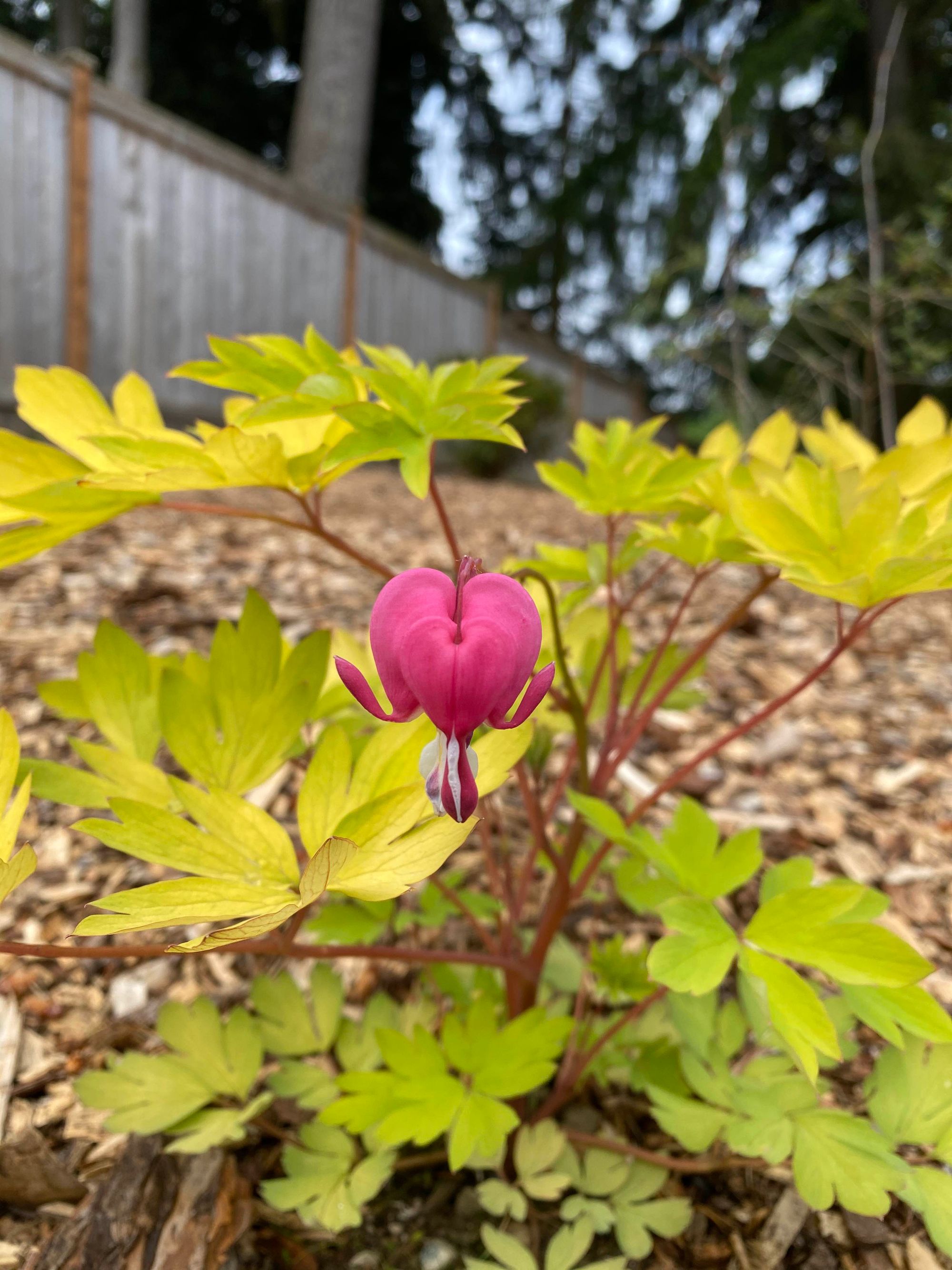 We also converted another area of the backyard to host native wildflowers.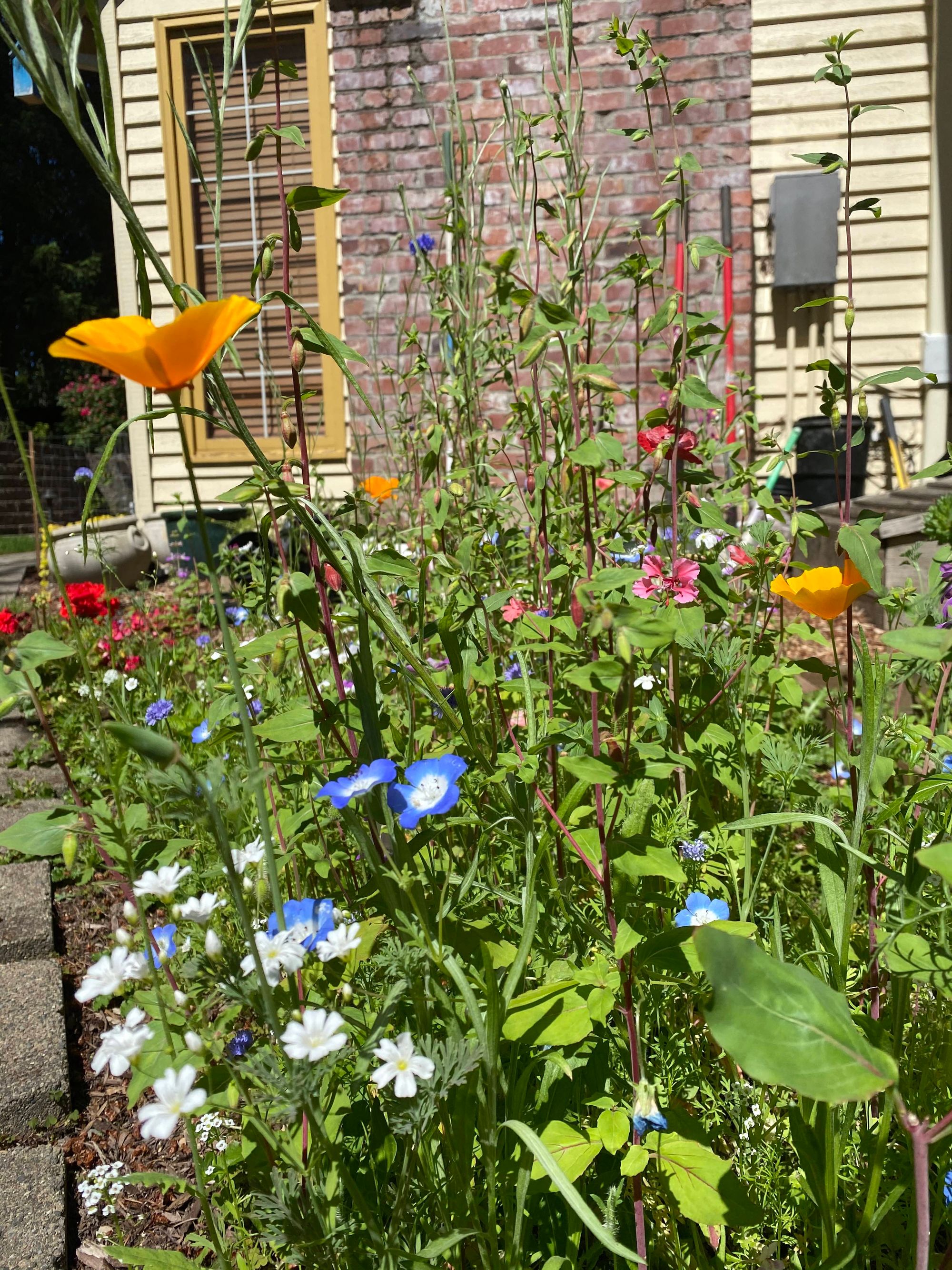 What I've Noticed
In addition to enjoying a significant drop in maintenance and care needs, we've also observed more wildlife in the yard, higher water retention, and better looking soil. The wood chips came with an added bonus - they were seeded with glistening ink cap mushrooms, which put on a show from about April to October by springing up overnight (sometimes more than one hundred at a time), sticking around for a day or so, and then dissolving back into the ground.
If you have a yard with turf grass, you might consider converting some it in this way. You could also join a growing movement called No Mow May, which invites people to simply let their lawn mower sit idle for a month to let wildflowers grow and support all the pollinators that are essential to healthy ecosystems.
These little efforts will not, by themselves, change the world, but they will change you and the part of the world you call home. You may have to say goodbye to the perfect lawn, but I'm betting you won't miss it.
As always, I love to hear from readers. Email me directly at james.amadon@circlewood.online. You can also comment below.
With you on the Way,
James
Like what you are reading? Consider joining our supporter community, The Circlewood Stand. Click the image below to learn more.