Jackie Brookner (1945-2015) was an ecological artist whose work is often both aesthetic and practical, opening people's awareness to their connections with the rest of creation and also making those connections healthier and stronger.
One of her large-scale works was created as part of the Mill Creek Restoration Project in Salway Park, Cincinnati. Historically, the river was an important factor in Cincinnati's economic development, but it was also turned into a dumping place for waste products and chemicals from that development, including waste from the pork industry and soap production. At its worst, fish kills were common and few land or water species survived the disappearance of habitat and food sources.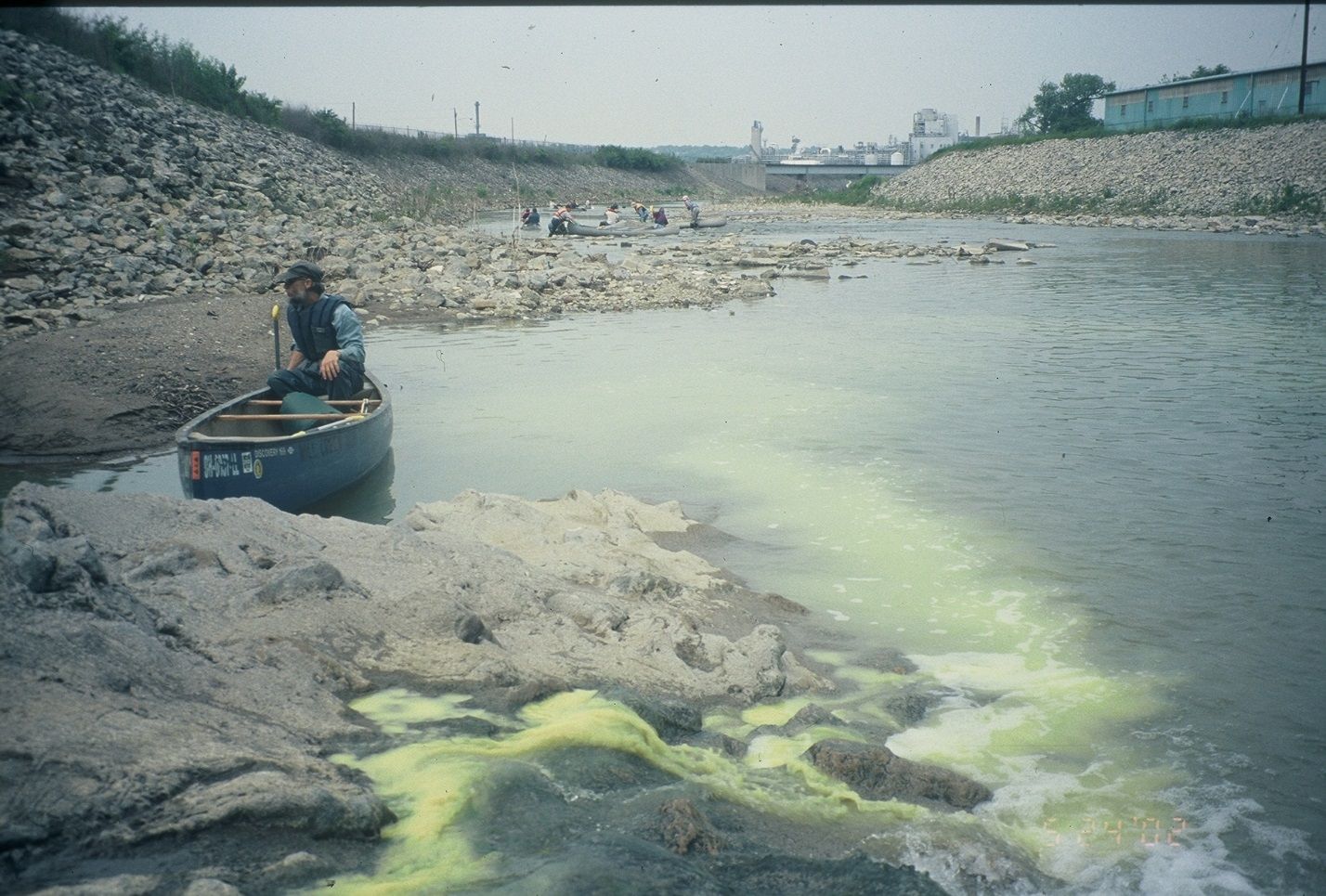 In 1992, the Ohio Department of Health determined that Mill Creek fish were unsafe to eat, and the Ohio Environmental Protection Agency advised everyone to avoid body contact with the water because of high levels of untreated sewage and the presence of E. coli. In 1997, the conservation group American Rivers named Mill Creek "one of the most severely polluted and physically degraded urban streams in the United States," and the most endangered urban river in the country.
Although the Clean Water Act stopped much of this industrial pollution from continuing, the damage remained. Half-finished flood abatement work by the Army Corps of Engineers exacerbated many of the problems. It took dedicated local organizations and people to do the work of restoration and bring healthy life back to the Creek.
To remedy the situation, public awareness was needed, to the extent of reminding the community that the creek was even there since the flood abatement work and invasive vegetation had removed it from public view and access. The embarrassment of the "unclean" designations and concerted efforts by local advocates of the river increased public awareness of the river and its problems in a way that were instrumental in bringing about needed changes.
Brookner and her biosculptures became part of this work of education and change as a focal point for public education and activity in Salway Park along Mill Creek.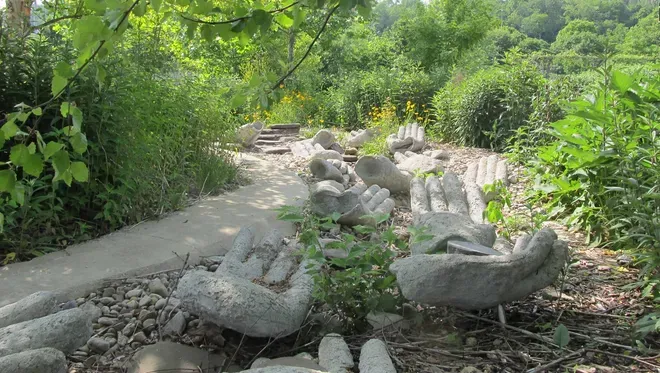 The 106 sculptures that make up Jackie Brookner's work titled "Laughing Brook," in Salway Park filter water and create habitat for fish, snails, plants, and other organisms in which waste is transformed into something useful in that ecosystem, binding together the members into a healthy and mutually beneficial whole ecosystem.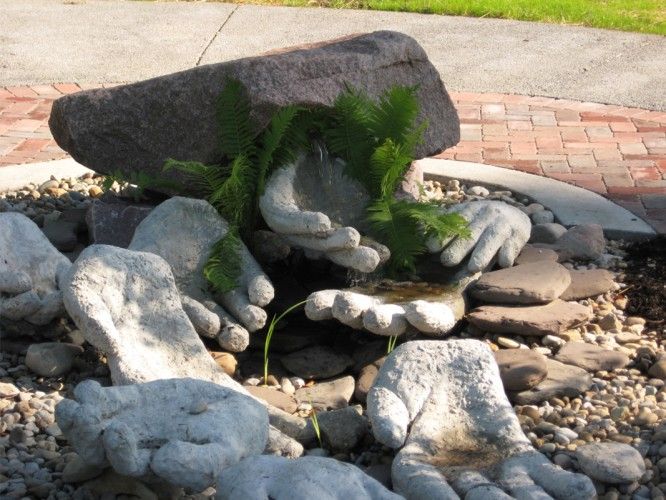 The "Laughing Brook" sculptures begin in a small plaza, where stormwater runoff from parking lots, sidewalks, and sports fields is gathered and seeps through porous paving to collect in an underground cistern.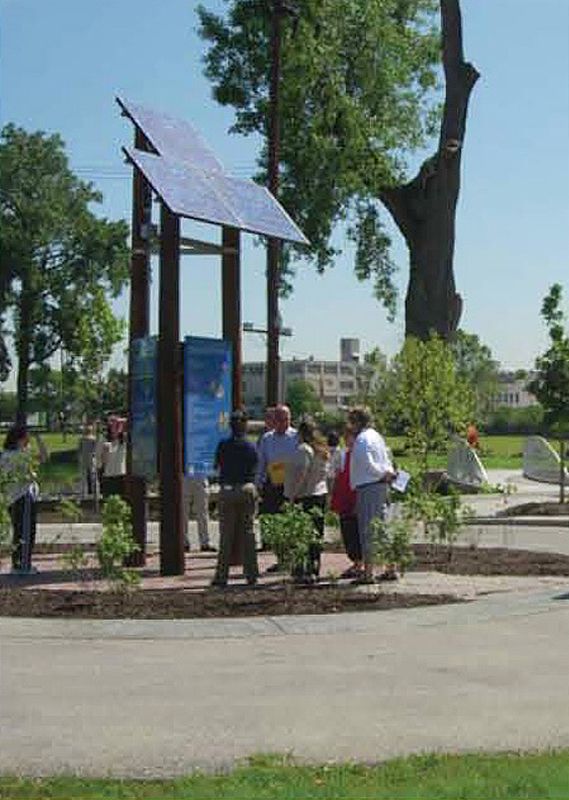 The water is then moved by a solar-powered pump over the rest of biosculptures and through the wetlands where it remains until the next heavy rain, when the filtered water is released into the river.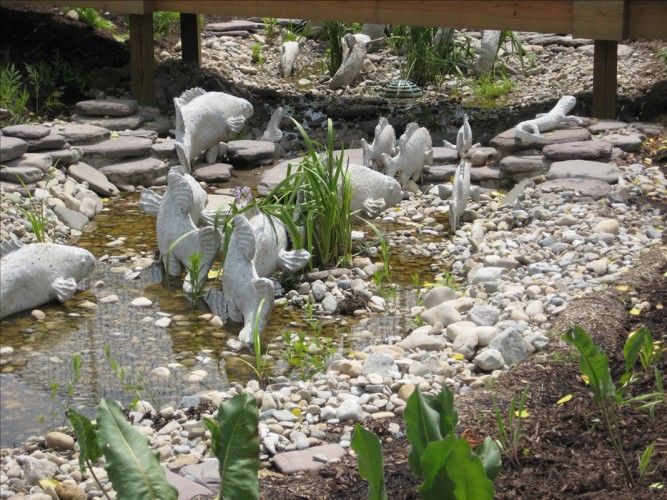 The constructed wetland that the biosculptures create forms a community gathering area and focal point for park users, and one that models sustainable urban stormwater practices. Walkways meander over the wetland stream and biosculptures, surrounded by prairie landscapes, butterfly gardens and native plant nurseries.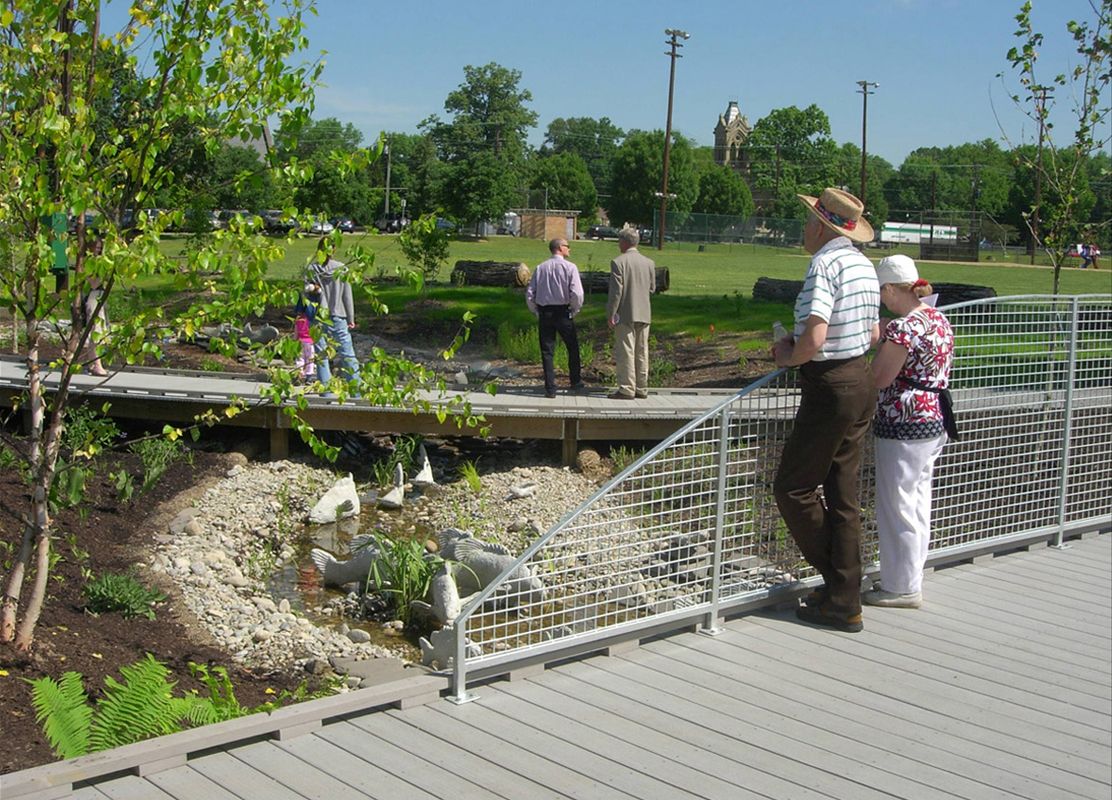 Her biosculptures started as hand-crafted stone figures which became a base for photosynthetic plants, moss, vertebrates and invertebrates, creating ecosystems in which nutrients are cycled and exchanged among the ecosystem's organisms. These created ecosystems act as natural water purification systems. Brookner's website states that the intent of the sculptures is "to seed a sense of connection to worlds beyond the human and to encourage understanding that is it possible to sustain human life in ways that benefit natural systems, rather than degrade them."
In addition to the practical filtration provided by the sculptures, they symbolically portray the bond that exists between humans and this particular river. As a person walks from the beginning where the water gathers in the cistern down the pathways, the biosculptures start out as hands and gradually transform into the six species of fish (largemouth bass, smallmouth bass, common carp, white bass, bluegill, channel catfish, and yellow bullhead), that should be present in a healthy Mill Creek.
The sculpture series is just a part of the work. Rain gardens, solar panels, and pervious pavement convey how people can become stewards and protectors of the environment and restore the Mill Creek instead of degrading it. Turtles, salamanders, beavers, and birds have all returned to the Mill Creek corridor.
Work on Mill Creek is ongoing, with a current concern being erosion control. Local organizations such as Groundwork Cincinnati and Mill Creek Alliance continue the long, slow work of restoration and protection, with engaged volunteers maintaining and continuing to care for Mill Creek and its health.
In a statement about her art, Brookner once wrote: "Hidden in the roots of our words we find what we seem to want to forget—that we are literally the same stuff as earth. My work explores this identity while undermining the assumptions and values that keep us from acknowledging it."
Reflection Questions: Do you consider what negative and positive affects you might be having on your watershed? Are there actions you could take which might make it healthier?
Feel free to comment below or contact me directly at info@circlewood.online.
Louise