Set in the Tamil Nadu region of southern India, the recent winner of the Best Documentary Short Film Oscar, The Elephant Whisperers, is an impressive work of filmmaking. It is also a work of advocacy and education.
Place
Kartiki Gonsalves, the movie's director, grew up 30 minutes away from Theppakadu Elephant Camp, where the movie was filmed. Established in 1923, the elephants were originally used for military and forestry tasks, but the camp now concentrates on the care of many orphaned and injured elephants, including those needing rehabilitation. Efforts are made to reunite abandoned babies with their elephant families, but this often fails, as do human efforts to raise baby elephants by hand.
With a mother who loved animals and a father who was a photographer, Gonsalves spent her childhood exploring streams and beaches, natural history museums, and aquariums. Beginning with the first frames of the film, the love of wildness and beauty is evident. Viewers are immediately immersed in the setting of place: the water, the moonlight, the animal and human community which have shared this home for eons.
The long and mutual relationships of care between the human and nonhuman world are honored and celebrated. As Bellie, one of the two major human characters in the film, says, "For us Kattunayakans, the well-being of the forest is all that matters."  (Both she and Bomman, the other major human character in the film, are part of the Kattunayakan tribal group that has, for generations, specialized in elephant care and honey collection).  Bomman comes from a family in which his father and grandfather were mahouts (elephant caretakers) before him—and the film's end looks toward the next generation who might step into this calling.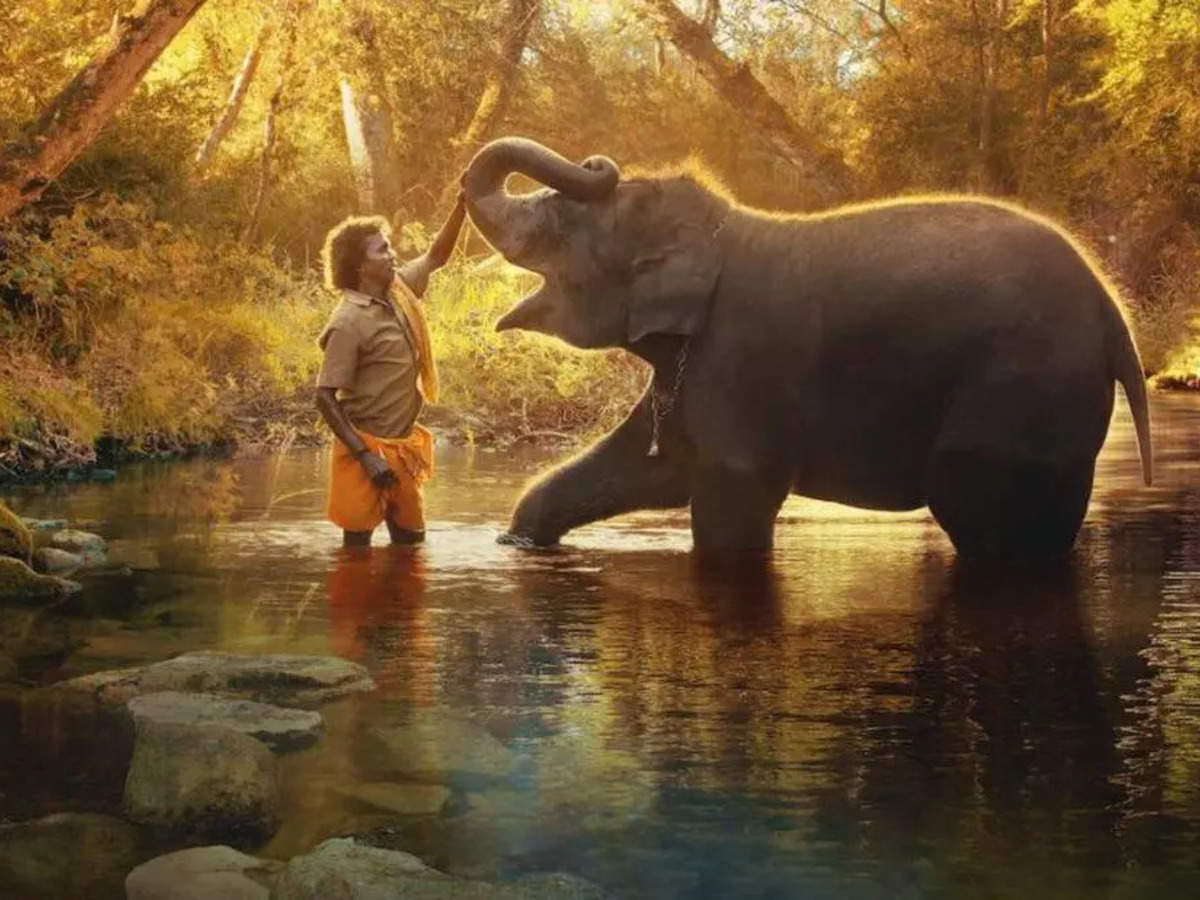 Family
Into this frame of place is brought the story of these particular elephants and humans: Raghu, Bomman, Bellie, and Ammu.  We are shown a hybrid human/elephant family that crosses the borders of species. As Bellie and Bomman say with human words and Raghu and Ammu say with gestures and sounds, each member of this family belongs to the others.
This affection and sense of familial relationship is present throughout the film: parent (Bomman/Bellie) and child (first Raghu and then Ammu), sibling and sibling, parent with parent. It reminded me strongly of my own child-rearing years, when so much of the life of my husband and me was centered around caring for our children together. As with Bomman and Bellie, that strengthened our bonds, certainly with our children, but also with each other. The film gives a beautiful picture of how this happens.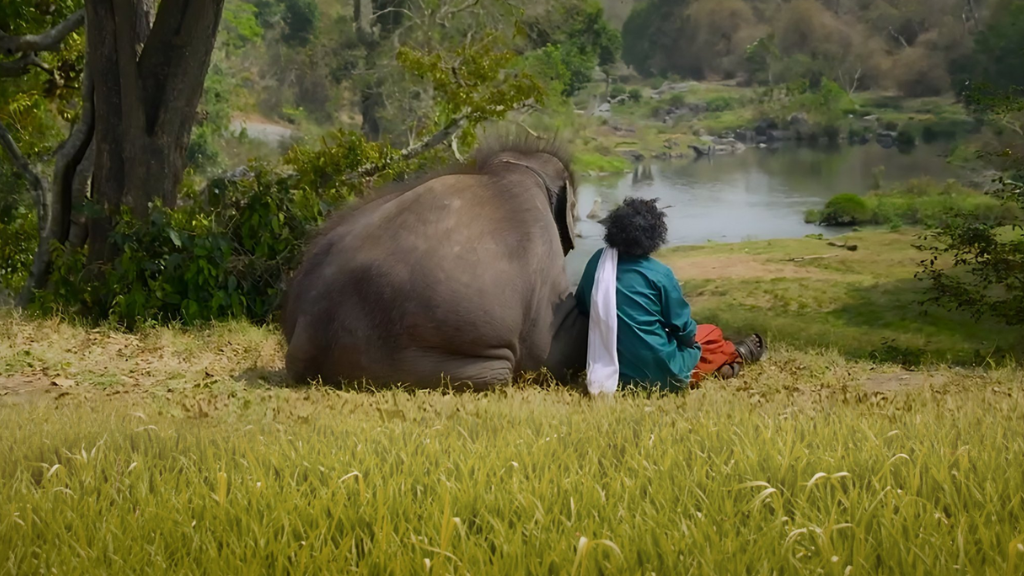 Familial moments run throughout the film. We see the human parents trying to get Raghu to eat balls of millet when he just wants to eat coconut. We see Ammu reach out and curl her arm around Bomman's, drawing him closer to herself.  We see baths and meals, celebrations and walks, discipline and many moments of affection and care.
The saddest part of the film is when the forest department takes Raghu away from Bomman and Bellie to give him to another caretaker who has more experience handling adolescent elephants. (Adolescent male elephants typically need a lot of discipline—though this isn't explained in the film). The grief caused by this separation is deep.  Clearly Bomman and Bellie miss Raghu intensely and clearly Raghu and Ammu also grieve the separation. I was reminded of the times in child-raising when letting children move apart is difficult and painful (such as kindergarten!) even when it is a necessary step in growing up.
As I was watching the film, a phrase I've heard often from a Native American friend of mine, "We are all kin," kept coming to mind. Although the indigenous protagonists in the film don't ever use the words, "we are all kin," that is what the entire film shows us. Bellie says in the film, "Everything about him (Raghu) is like a human except that he cannot talk."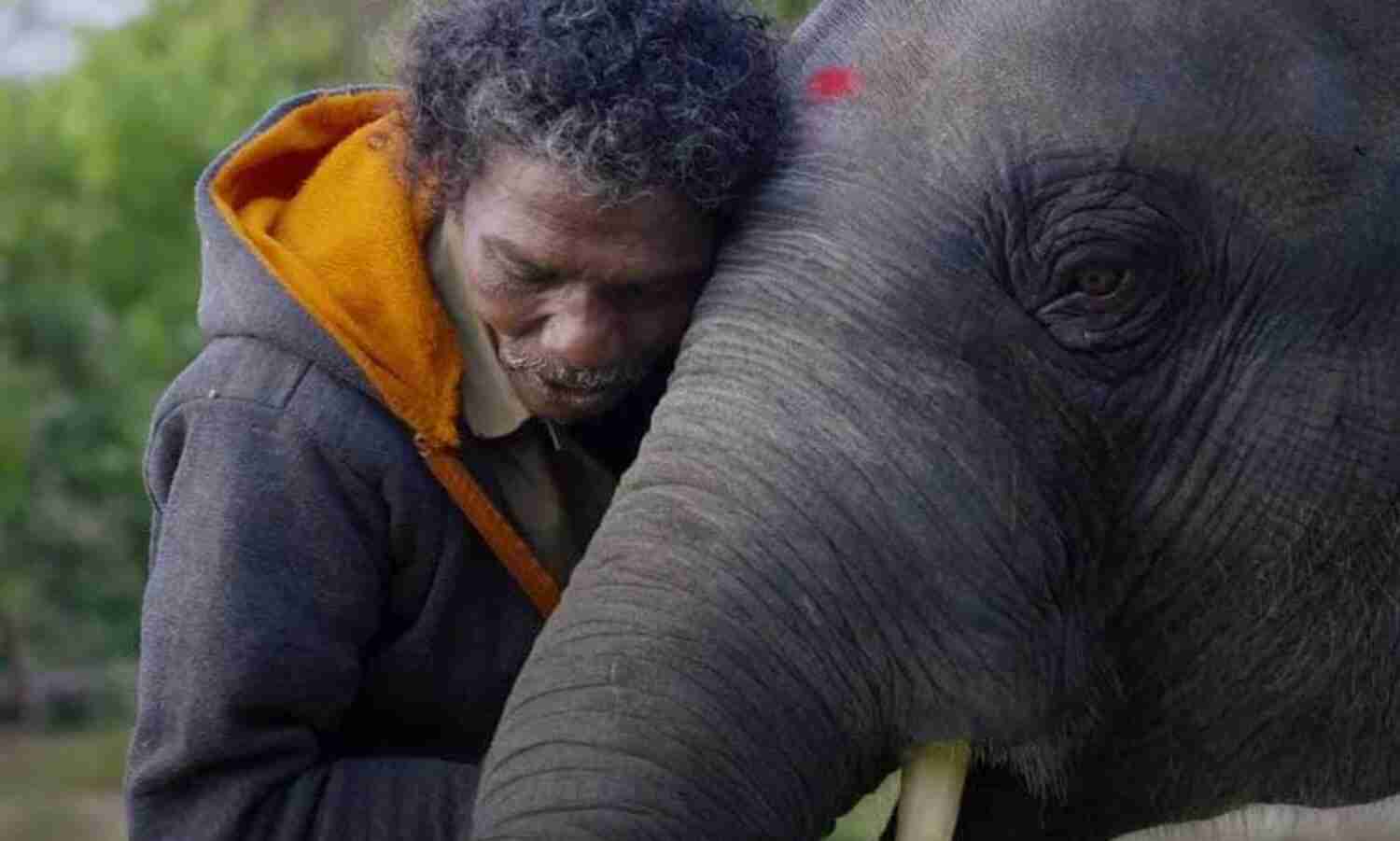 Love at First Sight
Gonsalves did not intentionally plan to make this film, but fell into it more or less, when she saw Raghu with his caretaker and the caretaker noticed her interest and invited her to meet Raghu.  Raghu was three months old at the time and Gonsalves was drawn, first to him, and then the family he was a part of. "This documentary was made because I fell in love with Raghu first," she says. "The three of us would happily splash along the river, and I would spend hours scrubbing him and rubbing his tongue. He absolutely loves his tongue being rubbed. He enjoyed pulling my hair and splashing around in the water. We would stick our tongues at each other."
Although Gonsalves is invisible in the film, her affection for Raghu is present throughout the film. She spent five years following this human/elephant family for the film and ended up with 450 hours of raw footage which she edited down to 41 minutes for the film.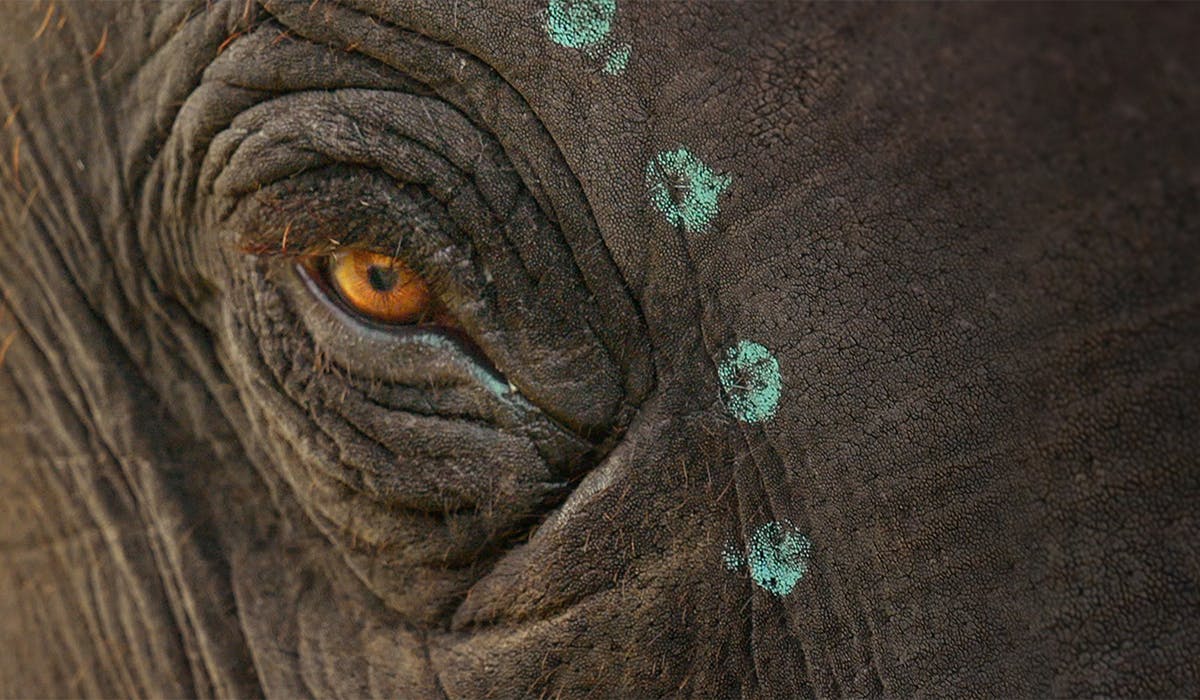 Understanding and Advocacy
Originally titled The Sacred Bond, the core idea of the documentary was to document the sacred bond between man and nature. As Bellie says in the film, "We live off the forest, but we also protect it."
Gonsalves wanted people to understand how beautiful elephants were and to recognize and respect their intelligence. "I wanted the audience to stop seeing animals as the 'other' and start seeing them as one of us," she says. She hoped that understanding would help protect their habitat — which the Asian elephant is losing at a rapid pace, due to encroachment, climate change and India's hunger for development.
Gonsalves states, "Raghu is the living embodiment of climate change and shrinking habitats for Asian elephants. He lost his mother to an electrocution when their herd meandered into a nearby village. To me this bittersweet aspect of the story was crucial to what I wanted to say."
A government report last year found that more than 550 elephants died of electrocution in the country over an eight-year period. With elephants losing habitat and non-agricultural food sources, conflicts between humans and elephants are increasing.
In one scene, Bellie tells a young girl a folktale with the point that the wild elephant has been misunderstood by those who don't know them. Having now known Raghu and Ammu, Bellie, whose husband was killed by a tiger and whose fear of the forests and tigers was intense as a result, is able to say, "When you give them love, they give back to you in the same way." In the film, one of the most moving scenes is when Bellie explains how she has been changed through the experience of successfully raising two baby elephants and how it has given her courage and a voice.
In her Oscar-winning speech, Gonsalves said,  "I stand here today to speak on the sacred bond between us and our natural world. For the respect of indigenous communities... towards other living beings we share our space with."
There is a line in the film that seems to bring all the parts of the film together and that is when Bomman is telling Raghu to "come home." The home referred to is home for all of them—both human and nonhuman—a family home. In the same way, this earth is home for all the creatures who live on it; we are all kin, those who share this home we call Earth.
Do you recognize a sense of family or kinship with nonhuman members of creation? How does or how might this change the way you treat this earth and its other inhabitants?
Feel free to comment below or contact me directly at info@circlewood.online.
Louise
The movie, The Elephant Whisperers is currently streaming on Netflix. To see a trailer for the movie, click here.
To see more of Gonsalves' work, visit her webpage here.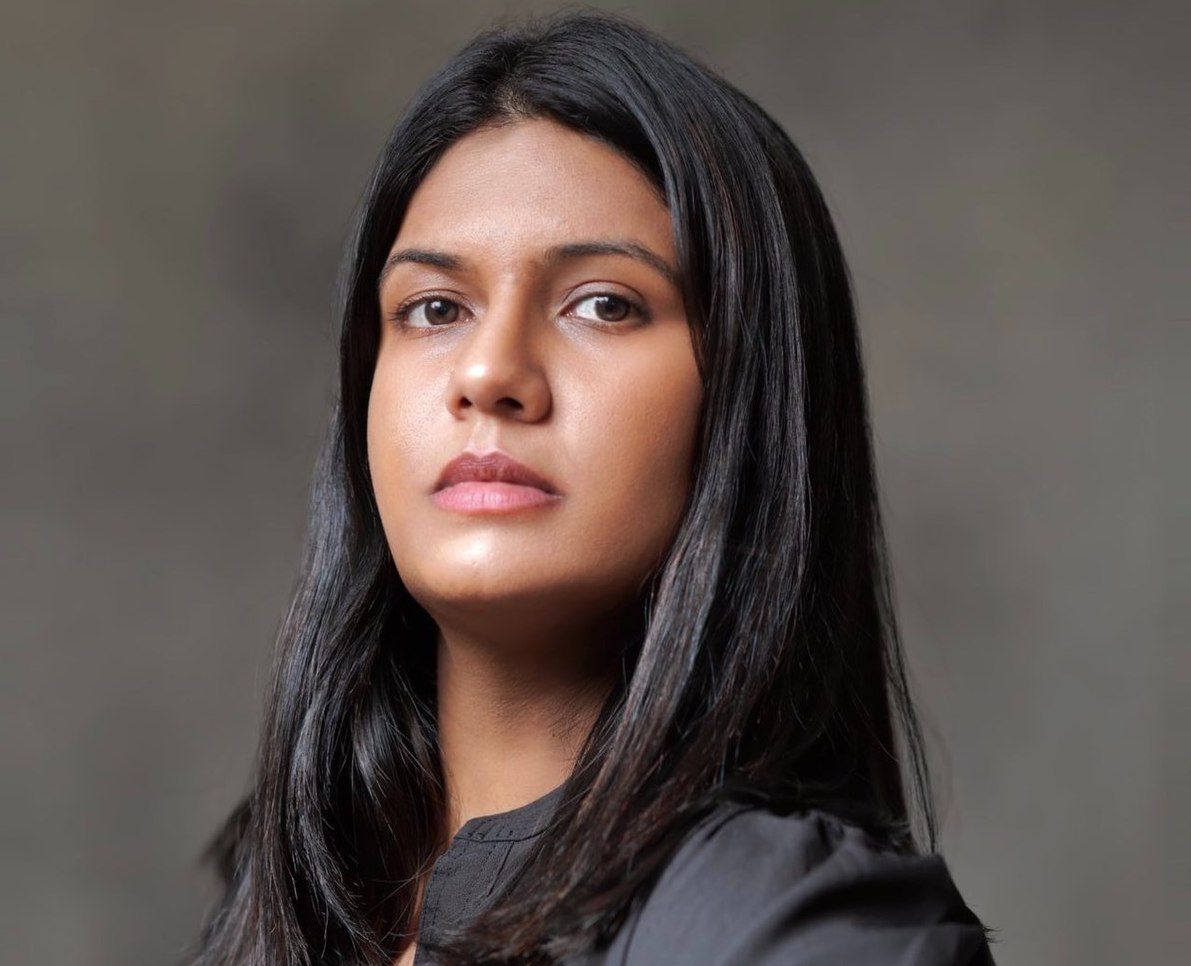 ---
An invitation to readers! If you've seen something recently that intrigued or amazed you enough to take a photograph, draw a picture, or write a (short) poem, send it to me by April 10th so that I can include it in an upcoming column bringing these artistic responses together. Along with your photo, picture, or poem,  I would love to include a sentence or two from you introducing your piece.