A place where children can play outside, may be, depending upon where you live, something you take for granted. For Chu Kim Duc, a Vietnamese architect, and her partner, journalist Nguyen Tieu Quoc Dat, creating such places has been a goal to work toward for the last ten years.
The Need
In burgeoning Vietnamese cities such as Hanoi and Ho Chi Minh City, the escalating demand for residential areas has led to increased density and decreased public open space. Developers who create luxury living spaces for the well-off recognize this and compensate by including private spaces for leisure and play within the residential area plans. But for those with low incomes and for those living in low-rise residential areas, there is little public space, and when there is public space, children play areas are a low priority.
As Kim Duc has said,  "Historically, Vietnamese children used to play a lot in nature because we were in agriculture with fields, lakes and forests. My parents' generation could tell us stories of how adventurous their 'play areas' were, especially during the wars. My generation and people living in cities like us still have memories of playing with friends in neighborhoods, on the sidewalks, on the street...My daughter now spends most of the time indoors, has no friends after school, no public playground near our house. It's the common situation in Hanoi and cities in Vietnam. Public spaces are invaded for commercial purposes. Parents think play is useless and a waste of time."
The Origin Story
This origin story begins in 2013, when an American photographer named Judith Hansen came to Vietnam to take photographs of Hanoi's children playing in playgrounds. "Wherever I go, I look at playgrounds because I think they tell us a lot about a culture," she states in a documentary covering the story.  Instead of happy children playing, she found old, rusted deserted playgrounds devoid of children. As a result of her experience, she decided to donate a slide for kids to play on and reached out to Kim Duc and artist Ban Ga for design assistance.
The slide, shaped in the form of a turtle in reference to a Vietnamese legend, was never completed nor accepted even after months of negotiations with the city, and Hansen flew home without seeing her dream realized. However, her dream was the genesis of something bigger than she could have envisioned.
"After she flew back," Kim Duc says, "I and my partner thought we have to do something! Because someone from across the globe has flown here to build a playground and we didn't manage," she recalls. Although they had never thought about building playgrounds before, it became their passion.
As a result, Kim Duc and Quot Dat formed Think Playgrounds (TPG), initially a volunteer group, which constructed its first playground in 2014 on the bank of the Hong (Red) River on Bai Giua (Banana Island). The playground was built for the low-income children of migrant workers who lived along the Hong River and in floating homes on the river.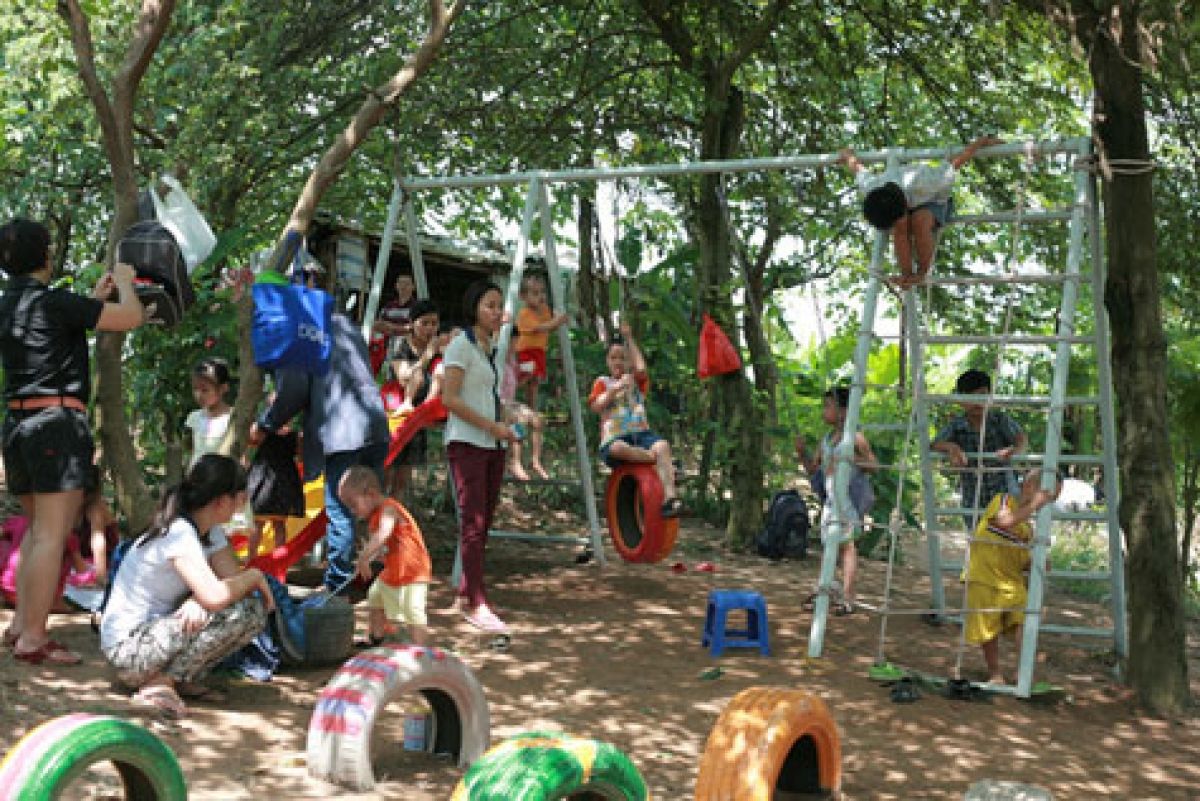 "We chose the Red River's middle bank for our very first project due to the huge support of local residents, " Kim Duc explained. "A lot of skillful volunteers also lent us a hand in building the playground." To make the playground, they painted old tires and recycled wood, and created and installed swings, slides, and seesaws in the vacant lot in the neighborhood where the residents live.
As was the hope of the two founding members Kim Duc and Quoc Dat, the success of this playground awakened the minds of many people, who became interested and more aware of the lack of playgrounds near their houses. New interest in partnering with Think Playgrounds to design and create play spaces for children was generated as a result.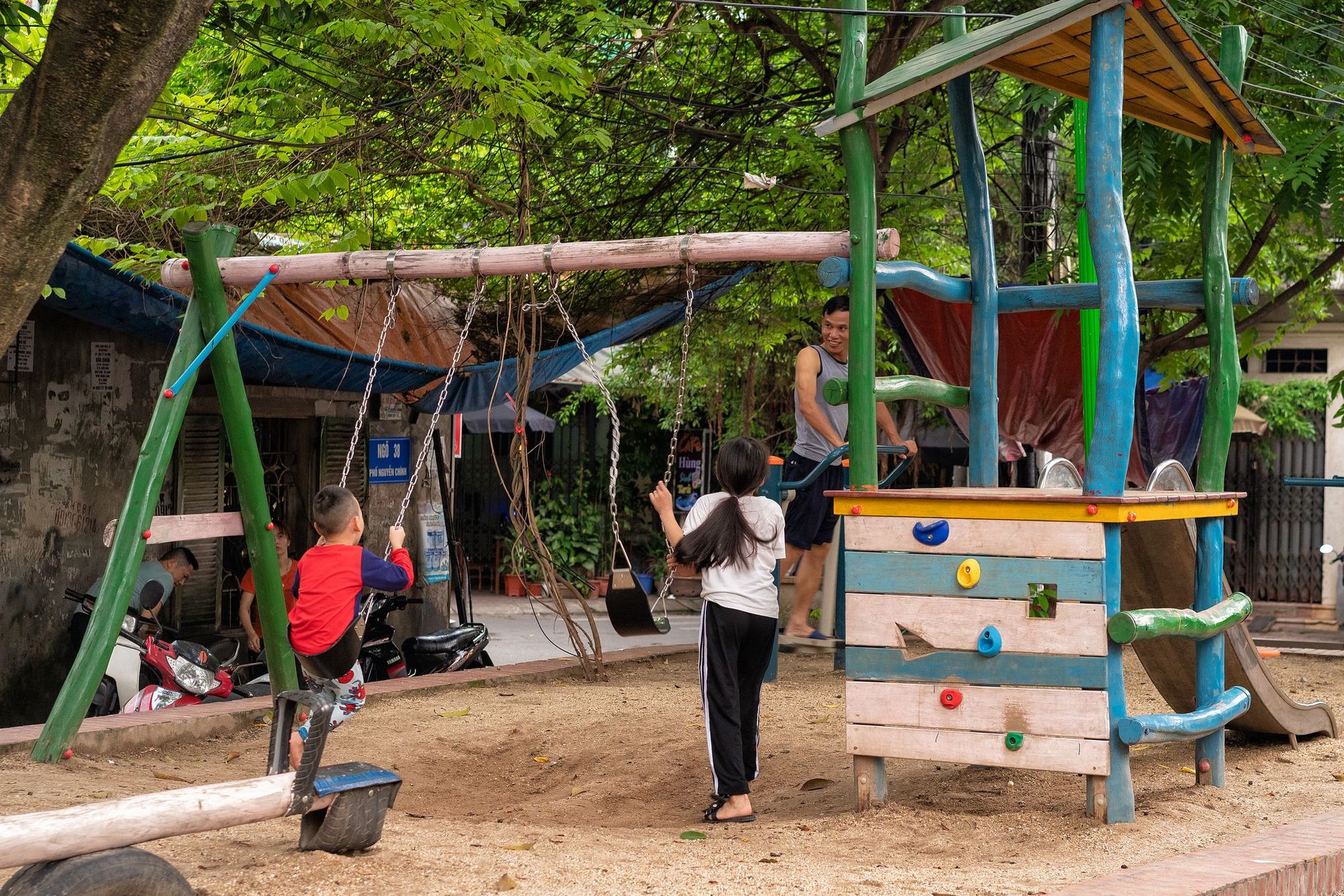 Typically, TPG projects are welcoming, colorful, jumbled spaces, often using organic shapes, natural materials, and animal forms—different from the normal urban landscape.  In the beginning, they used all recycled materials, in particular, wooden pallets, but decided to switch to old tires in order to make more durable equipment. The recycled materials, such as tires, straw and wooden boxes, provide opportunities to educate children about climate change and other environmental problems. At the Think Playground's headquarters in Hanoi, which is also their workshop, stacks of recycled materials wait to be converted into playground equipment.
For the sake of safety, they cover the ground with artificial grass, sand, and rubber so that their high-flying swings are safe.
Collaboration
Involvement of the local community is a goal of every project.  "Instead of calling for volunteers, we persuaded local communities to take part in constructing playgrounds."
Illustrations which are gathered through drawing workshops involving children and adults are honed by the designers in their workshop. The community later helps install, paint and maintain the spaces. "We always try to create a story for each playground," says Kim Duc. "That story is based on the area's culture. In Ngoc Ha, we designed a playground with the concept of a pond with frogs because the area has many ponds."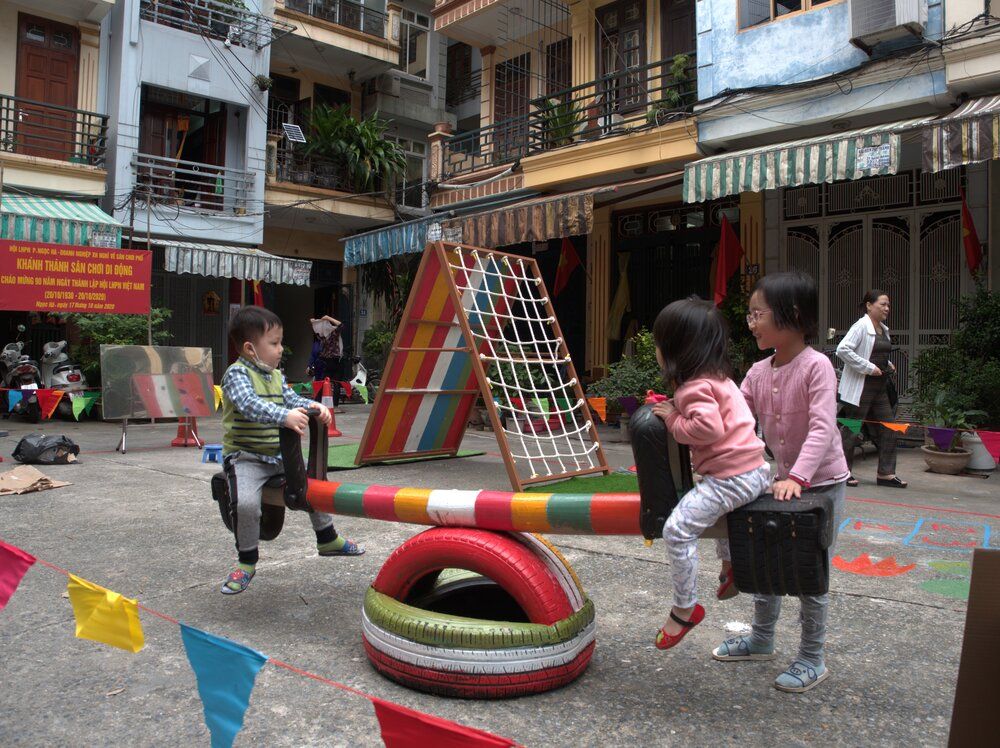 In addition to building playgrounds, Think Playgrounds hosts "PlayDays," in which toys and equipment are brought in to create a pop-up playground for children. The first PlayDay was held in November 2014 and included workshops for adults on how to build a playground as well as a temporary playground for children, open to the public for observation. A crowd of 2,000 people attended.  The event pointed out the lack of play spaces for children and created collaborative opportunities for Think Playgrounds with other communities and organizations. They have worked with the US Embassy, the Ford Foundation, the Cultural Development and Exchange Fund, AirAsia, the Danish Ministry of Foreign Affairs, and the Japan Foundation, to name just a few of their partners.
TPG was registered as a social enterprise in the 2017 with a mission to promote children's "Right to play," through joint efforts with urban residents to build playgrounds for children, community gardens as well as renovate friendly and inclusive public spaces. By the end of 2021, TPG and their partners had built over 200 public playgrounds with 30 in Hanoi, a dozen in mountainous tribal villages, and a few in the center of Vietnam. They had also created community gardens, piloted the first adventure playground model in Vietnam, and organized public playdays, playstreets, and other play events in Hanoi and Ho Chi Minh City.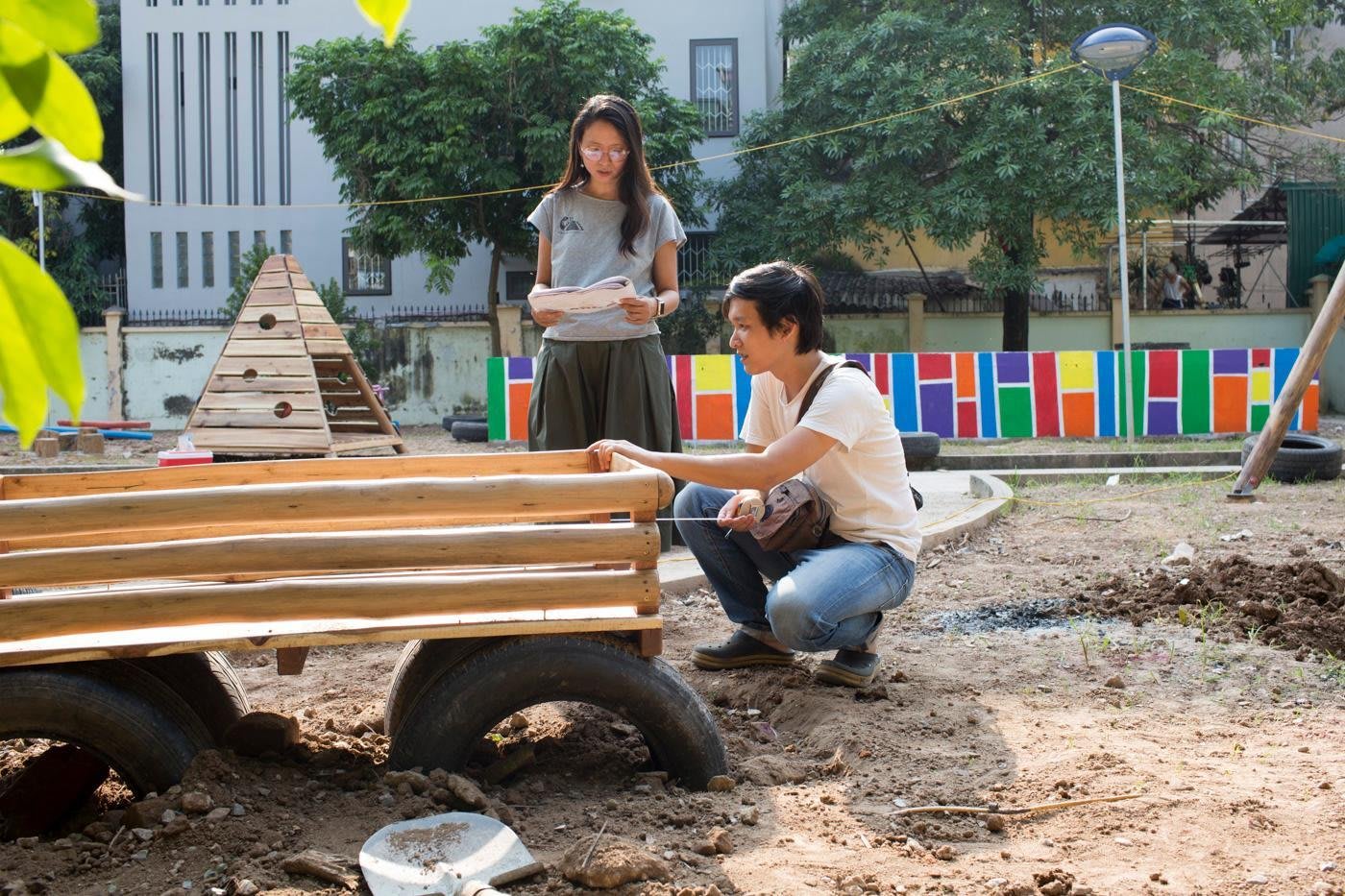 Building non-profit and low budget playgrounds for the needy and poor is Quoc Dat and Kim Duc's passion, but the team also create private playgrounds and made-to-order equipment which help fund their construction of free playgrounds. In addition to the 200 public playgrounds they have constructed, they have created 100 private playgrounds as well.
This June, they completed two more projects. The first is a project at the Tan Tao Ward Sports and Cultural Center in Ho Chi Minh City in collaboration with partner BASF, featuring environmentally-friendly materials such as fast-growing eucalyptus wood, old tires and panels made from plastic waste. The second is a playground designed specifically for visually impaired children.
Challenges
According to the architect, the most challenging aspect of building a playground is making sure local residents are able to maintain it. A well-maintained playground can last up to five years, but without follow-through, it will fall into disrepair within a few months. For example, in 2019, they built Vietnam's first Adventure Playground in collaboration with Tokyo Play and Ecopark, but the local community didn't take ownership of the management costs, and the space disintegrated into a hangout for teens.  
This explains the emphasis Kim Duc puts on local engagement in designing, building, and maintaining each project. By successfully transferring the sense of ownership and responsibility to the community, it increases the chance of each space lasting longer. Without this, the playground will not be around very long.
Further Reach
In 2020, the BBC named Chu Kim Duc one of the year's most 100 influential women worldwide due to this work.  In addition to Think Playground's own work, their influence has spread to other groups, such as Cung Hanh Dong (Act Together), the Song Ma Volunteer Team in Hanoi, Kicodo - a group of architecture lecturers and students of Da Nang Architecture University on the central coast, and the Ho Chi Minh Communist Youth Union at Nha Trang University in south-central Khanh Hoa province, just a few of the groups who have  joined the effort to create safe playgrounds for Vietnam's children.
When you remember that this all began with one person's desire to donate a slide for some kids to play on, the way this idea has spread is an impressive outcome.
Reflection Questions: Are there small (or large) things that you could do for some segment of the world's human or nonhuman population, particularly those who are commonly overlooked?
Feel free to comment below or contact me directly at info@circlewood.online.
Louise