When I have had the privilege to lead Confirmation, a program that helps middle school aged kids understand the basics of Christianity and develop their personal faith, I explore the nature of the Church through an image that visualizes Christianity as a tree.
The picture helps us remember that the roots of Christianity are in Judaism, that Jesus is the main trunk holding it all together, and that there is one universal Church which has numerous branches. Insofar as the branches are connected to other branches, the trunk, and the roots, the image invites us to appreciate the cultural, theological, political, and geographical forces that have created so many branches over the last two millennia (and there are many more smaller branches not pictured) - a beautiful and creative diversity of faith communities that share a central unity.
I have certainly benefited from this diversity in my own life. I was baptized as an Anglican, raised an Episcopalian, went to a Pentecostal youth group, and had mostly Catholic friends. I attended a non-denominational evangelical college, learned from Jewish teachers in Israel, spent summers working for the Salvation Army, became ordained in the Covenant Church, went on mission trips with Unitarians, and pursued additional education at a Methodist divinity school. All of these traditions have helped form me as a follower of Jesus (though none of them are perfect), and I love them.
The picture also reminds us that many of these branches have not been formed by natural growth, but by conflict. Churches have, at times, seen themselves as "the one true branch" and others as not worthy of being part of tree. We see this in the Great Schism of 1054, which splintered the Church into Eastern Orthodox and Roman Catholic branches, and again in 1517 when reformers within the Catholic church eventually split and created a new set of "Protestant" branches.
At its worst, the Church functions as a community of splintered sects condemning one another and competing against one another for a share of the religious marketplace. I have heard many Christians condemn their brothers and sisters from other traditions, and have supported family members whose churches have split over theological and social differences (twice!). Sadly, I am currently watching my own denomination struggle to hold together in the face of massive internal and external forces of change.
My guess is that you have your own experiences of the Church at its best and worst, too. Most of the time our faith communities exist somewhere in between these extremes, an extended family that sometimes loves and serves as one, sometimes argues and attacks each other, and sometimes splits and separates.
As ecological disciples, we understand that all things are interconnected and interdependent, from literal trees to family trees. This includes, of course, the Church, so we embrace the prayer of Jesus in John 17, "that all of them may be one, Father, just as you are in me and I am in you." And I think that our current ecological crisis presents us with an opportunity to cultivate this divine unity, to help heal the family tree of Jesus by responding to this crisis as creative collaborators.
Why Unity is Possible
In a time of crisis, differences often become less important. And we are in a crisis: the latest report from the United Nations' Intergovernmental Panel on Climate Change has been described as "a code red for humanity." The theological and social issues that divide people of faith, while important, seem less so when the planet we share is on fire (as I write this, smoke from wildfires in British Columbia surrounds my home and is exacerbating another Pacific Northwest heatwave). And as I wrote in my last post, the Church in the West is in crisis too, continuing to lose influence, people, and vision.
While disheartening, these crises also present an opportunity to unite followers of Jesus around 5 common commitments:
The love of God. This is the love that is the essence of God's being, flowing from God, through Christ, in the power of the Holy Spirit, to us and to all creation. It is the love that we offer back to God through worship, prayer, and care for what God has made. It is the foundation of unity, for it holds all things together.
Our call to be earthkeepers. This is our unique human calling, made clear and possible in Jesus. It rests on us all, and should shape all of our lesser vocations.
Our concern for what we have wrought. This is the acknowledgement that all of us, to greater and lesser extents, have not lived up to this vocation and need help finding our way back.
Our pursuit of new forms of faithful living. This is our chance to come together in creative collaboration focused on God's glory and creation's good.
Our vision of a flourishing future. This is our animating picture of the world as it should and will be, brimming with divine energy, purpose, and life, a "new heavens and a new earth."
Embracing these five commitments naturally leads to action. Let me suggest three ways forward.
Crossing Boundaries
Creativity is frequently found in the intersection of two or more different communities, whether that be in estuaries, where fresh water and salt water combine to bring forth and support unique forms of life, or in ecumenical endeavors, where two or more church traditions come together in response to a common concern. Both of these examples require movement; the second requires intention. Crossing the boundaries of one's church is not the same as changing churches or denominations. It involves those who are committed to a particular church or tradition voluntarily seeking interaction with those who are outside the "home faith." (I am focusing here on boundaries within Christian faith; crossing the boundaries of other religions and "secular" communities are for another post).
This can be as simple as learning from other Christian traditions; for ecological disciples, this should include an emphasis on traditions that have cultivated an ecological consciousness in their theology and practice. It could also mean participating in others' worship services or studying Scripture together.
Creating Alliances
There are local, regional, and international examples of alliances between Christians focused on ecological discipleship and mission. One of our readers is part of the Greening Congregations Collaborative of Whidbey Island (go Rick!), and I know others who are part of Young Evangelicals For Climate Action, Interfaith Power and Light, The Laudato Si movement, and the Christian Food Movement. These are formal organizations, but alliances can be between two people finding common ground and pledging to work together. Speaking of common ground...
Caring for Common Ground
One of Wendell Berry's well-known sayings is, "What I stand for is what I stand on." It's a call to find common ground, literally, to practice earthkeeping right where we are. We can find common ground when we recognize the specific foodsheds and watersheds that make our lives possible, and come together to care for them. I never imagined that I would be caring for a 40-acre forest on Camano Island, but that is a specific piece of land that I have been entrusted with; it is what I stand on. Fortunately, I have many creative collaborators helping care for the forest together. Some of us gathered on Saturday to clear brush, pick blackberries, and build habitat piles. We represented several different Christian communities, but worked together as one.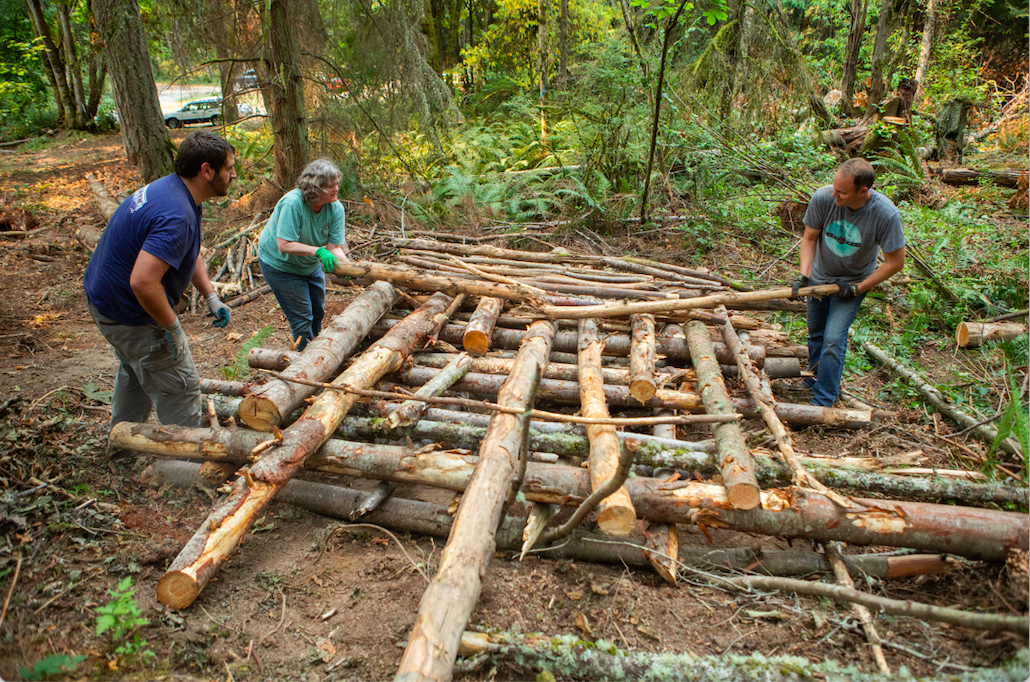 A Beautiful Outcome - Healing Splintered Branches
When a branch fully breaks off from a tree, it is virtually impossible to reattach it (Arborists - correct me if I'm wrong). However, if the splintered branch still remains attached to the tree, it can be moved back into position, stabilized, and, over time, may heal.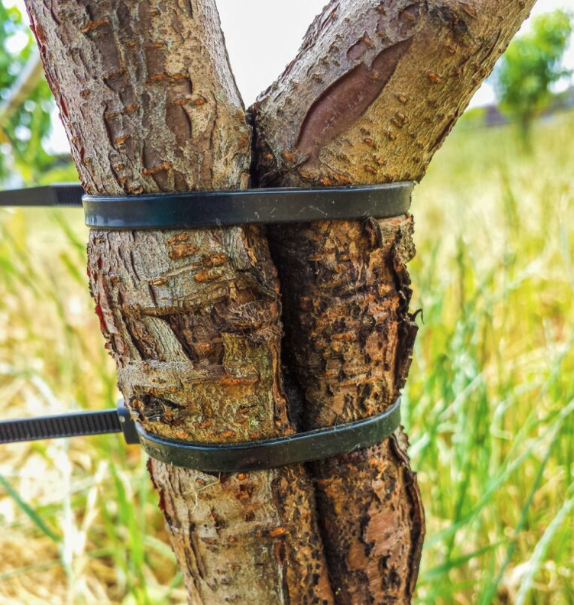 Protestants and Catholics have recently held significant conversations regarding differences that have been overcome and those remain (a sign of ongoing connection), and Pope Francis and Ecumenical Patriarch Bartholomew issued a joint call in 2014 for reunification of Orthodox and Catholic communities that included the following:
It is our profound conviction that the future of the human family depends also on how we safeguard – both prudently and compassionately, with justice and fairness – the gift of creation that our Creator has entrusted to us. Therefore, we acknowledge in repentance the wrongful mistreatment of our planet, which is tantamount to sin before the eyes of God. We reaffirm our responsibility and obligation to foster a sense of humility and moderation so that all may feel the need to respect creation and to safeguard it with care. Together, we pledge our commitment to raising awareness about the stewardship of creation; we appeal to all people of goodwill to consider ways of living less wastefully and more frugally, manifesting less greed and more generosity for the protection of God's world and the benefit of His people.
That is a statement that all the branches of faith should say together. Until that day comes, each one of us can look for ways to be creative collaborators with our brothers and sisters in the faith, and do our part to bring healing to both Church and creation.
With you on the Way,
James
---
Special Note: The Ecological Disciple is part of Circlewood, an organization and community committed to "accelerating the greening of faith." We are hard at work crossing boundaries, creating alliances, and caring for common ground through  creative media, education, and our development of Circlewood Village on Camano Island. We are able to do this because of a growing community of partners, which includes people who have made Circlewood an ongoing part of their charitable giving.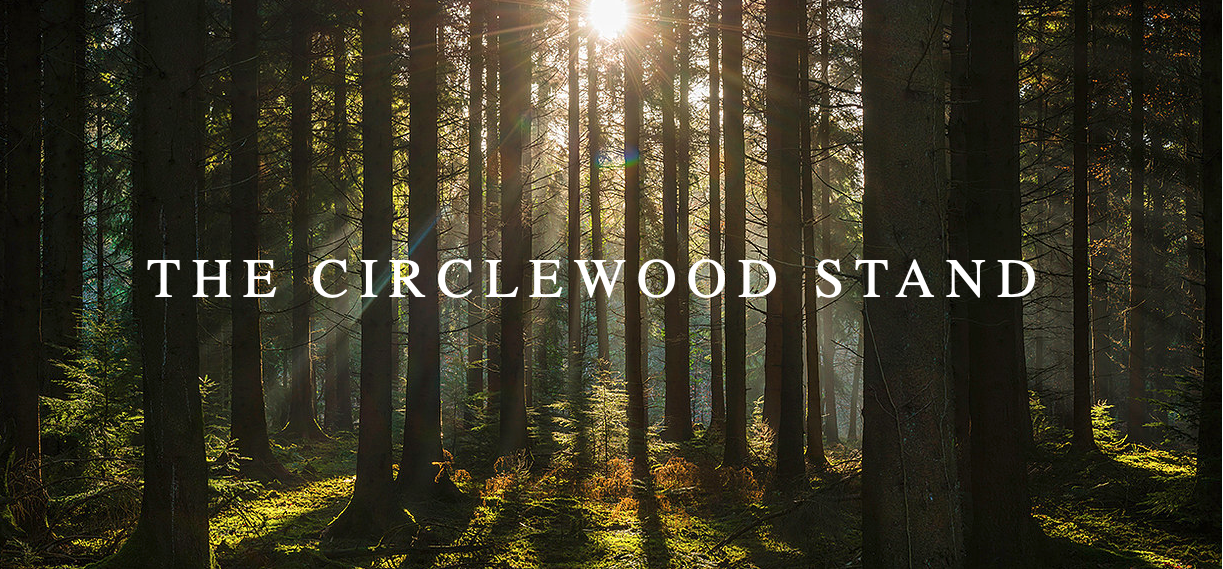 To recognize and honor those who give regularly, we created the Circlewood STAND. A stand of trees is a unique community of trees standing together and supporting one another. Some of our readers are already members of the STAND (Thank you!!).
Will you consider standing for a faith that cares for all creation and standing with us as we accelerate the greening of faith. Will you consider joining the STAND? Learn more HERE.